Franchise business plan
The UK network is supported by a UK support team who coordinate, launch and ongoing marketing activity for its franchisees. But the team aren't there just to help franchise partners with sales; they are there to make sure partners deliver the best service possible to their clients. Our franchise business plan and model is so established and successful, we guarantee in writing if you meet our requirements, do/invest in enough marketing to get you in front of 6 qualified prospects a month and you use our UK sales process; you will achieve a £10,000 monthly gross income within your first 7 months of support & training with us.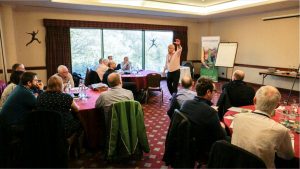 Customer service for franchise partners and your clients
Our franchise partners have the option of offering a client guarantee as part of their marketing activity: "My personal guarantee to you is that providing you do the agreed weekly work, the 1-to-1 coaching programme will increase the amount of Gross Profit you make in the first 6 months by at least the amount you've invested in my coaching, or I'll refund you the difference." Since its introduction in 2009, only two refunds have been given as a result of this guarantee. This guarantee was developed to give clients the confidence to commit to ActionCOACH business growth services when, from track record, we know that they will benefit but they are new to this type of service.
Excellent feedback
In 2017, we ran our annual customer feedback survey on behalf of our franchise partners. Taking a cross section of clients from across industry sectors in the UK, the results show a staggering 97 per cent of business owners say their Action Coach makes a positive difference to their business. Data collected in a recent survey by Investec Private Banking found that a quarter of UK professionals are dissatisfied with their work-life balance. According to another recent study by insurance provider Simply Business, almost half of the 2,000 small business owners surveyed cancel social plans at least once a week, a quarter take less than 10 days' annual leave and 25 per cent have fallen ill due to stress and overwork. So, it's amazing to see that 8 out of 10 ActionCOACH clients agreed they had achieved a better work-life balance within less than 12 months of working with their Action Coach.
Click here to see the latest results
In April 2018, our annual Business Excellence Forum and Awards took place at the ACC Liverpool. Our biggest and best yet, we welcomed over 1,050 coaches and clients to our two-day conference. The Business Excellence Forum exists to recognise and honour the innovation, passion, risk-taking and results of some of the best companies and business owners in the world. It brings together a like-minded community of entrepreneurs to share ideas, build relationships and learn from some phenomenal success stories. The 2019 forum will grow to 1,500 delegates.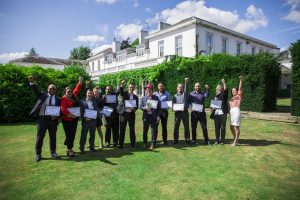 In 2013 ActionCOACH became the first recipient of Smith & Henderson's coveted 5-Star Franchisee Satisfaction Award with record-breaking satisfaction scores. In early 2018 ActionCOACH won this award for the 6th consecutive year, a recognition only 3 other franchises can reach this year.
Meeting customer needs
Deloitte recently stated that engagement is the one key element every successful business needs but most businesses have terrible engagement levels. A recent GALLUP survey revealed that 86% of employees surveyed across Western Europe were actively disengaged. We've partnered with Engage & Grow CEO and Founder, Richard Maloney. The Engage & Grow programme is a pioneering new way for a business owner to advance their systems, team behaviour and culture. ActionCOACH is the exclusive partner in the UK and the programme has shown a 300% increase in engagement compared to traditional training which typically results in 10-15%.
Existing clients are a valuable referral and market research source. Our videography team support franchisees by producing promotional and testimonial videos. You can view some of the outputs on our YouTube Channel.
Visit our YouTube Channel here!
We also provide a bank of professionally-produced client case studies for our franchisees to use as examples during their sales process and they provide us with qualitative market research. All of these help prospective clients understand how a business owner in a similar situation to them has succeeded by using ActionCOACH. Our main client seminars and workshops are CPD accredited and this can also help to validate their time away from the business.
Performance risk warning and weekly coaching with a Master Coach
Some of the key markers of a franchisee disengaging due to underperformance is non-attendance of our conference or missing one-to-one discussions with their Master Coach. We pay for a Master Coach to weekly coach them 1-2-1; once a month the Master Coach will review and discuss their KPIs and variances to their initial franchise business plan. This identifies any areas requiring more learning, investment or activity.
Success from continual training, mentoring and coaching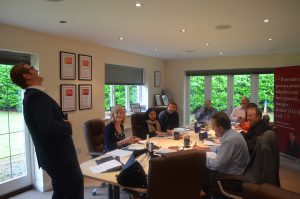 1-to-1 sales coaching helps our franchisees to fast track success at sales meetings with personal critique and coaching of sales meetings from a MasterCOACH. This service is freely available to all franchise partners with a less than 1 in 3 success rate at sales meetings. They get a digital dictaphone to record sales meetings. After their self-critique of the recording, the MasterCOACH will review it, provide feedback and suggest areas for improvement.
Training
We want to ensure our franchise partners can fish for themselves rather than giving them a plate of fish. That's why we run 10 days of Sales & Marketing Training a year and another 60 days of networking and training opportunities. We are also committed to delivering some tasty fillets for them through our client generation centre. The reimbursement available on their first £3,500 of marketing investment gives them the confidence to deploy their working capital. This level of investment typically results in at least one client and an excellent return on their investment, so they can continue to reinvest in growing their franchise.