Discover valuable strategies, tested tools, and proven systems to build any business
"A Business Coach is better than a consultant for many reasons. With years of successful experience that can provide valuable insight, your Business Coach will help you develop long-term and short term goals and strategies, as well as improve your business in areas that you might have overlooked. You may be able to survive in business without the help of a Coach, but it's almost impossible to thrive…"
I have been working with Brian for the last seven months and I have found him to be a highly skilled ActionCOACH Business Coach. He is helping me to improve my business skills and to continuously review and focus on all aspects of growing my business. He has a high degree of empathy and professionalism, which to me as a female business owner has been particularly valued as I feel I can trust him and work with him to push the business forward. Brian is always encouraging and reassuring yet he won't let actions slip and has a subtle way of getting his clients to progress as quickly as possible.

Lida de Souza, De Souza Associates, Worldwide Venue Finders
"Thank you for all your uplifting and inspiring comments and most importantly, the strategies that have helped us move forward. We now realise how little we knew about our business and how much we still have to learn. We look forward to joining your future growth seminars to continue the process and top up on our new skills."

Steve Holmes, Director, Chawton Hill Associates Ltd.
"ActionCOACH help to remind you why you set up the business in the first place – it reenergises you and the 'coaching plan' helps you to keep on track and improve."

Tim Lance, XI Ltd
"The GrowthCLUB workshop is very valuable use of time – to take stock, get different perspectives, meet others with similar issues and plan ways of improving the business"

Paul Ezzard, Showcase Ltd.
"This GrowthCLUB workshop has given me the confidence to rellaunch my business with every expectation that I can make it work!"

Kathryn Austin, Kathryn Austin Flowers.
"Brian is a captain of industry who can see through a business and knows how to inspire its owners to take it from 'good to great'. We have now taken steps to implement a sound strategic approach to organising our business for real growth".

Steve Holmes, Director, Chawton Hill Associates Ltd.
"From starting my business I knew what I wanted to do, and where I wanted to take it, but after a couple of years I realised that I simply didn't have the generic business skills to deliver my vision. Brian has helped me enormously, coaching me and therefore the growth of my business. The advice and input that Brian has brought to my business has been invaluable, and it feels very much like the business is closer to a finished product than simply an entity that I have to fire fight every day! I would strongly recommend any business to take Brian on as a business coach. His experience, outside perspective and solid business acumen is both thought provoking and valuable".

Peter Richman, Plug and Play.
"Working with Brian for only a short period of time has made me realise that unless I develop a clear vision of what I want my business to be, I will not be able to achieve it. Through his coaching I have been able to step back from the day to day work to take a good look at the business and at myself and start putting systems in place so that I can concentrate working ON the business rather than IN the business. I have had to look at aspects of the business I never even thought of considering, let alone change.

I am now focusing on the pivotal accepts of the business which, I realise now, are so important and that I neglected for so long. I now know that I can develop my business into a much better run, more efficient and more people-friendly business. Even in the short period of time we have worked together Brian has made a huge impact on the business and on me and not a day goes by where I don't apply his teaching.

I have become one of your "raving fans" in no time at all and I can only recommend anyone who is in business (no matter how long) or thinking of starting one to make the most important phone call of their business life and to ring you – right now!"

Darren Brown "prescribing a life without debt", Debt Advisor, debtDr
"I would thoroughly recommend Brian. He is an excellent business coach with extensive knowledge of business, based on his own experiences from successfully running his own company".

Jackie Gardner, Managing Director, Business Foundations.
"I have seen an outstanding transformation in my business and personal aspirations. In a short space of time, I really got focused again on all the things I need to do to achieve my goals. The results started instantly once I followed and focused on the '5 ways' strategies. The power of writing down the goals in the GrowthCLUB has enabled the journey of how to get to the goal much clearer, and definitely achievable. I was running my business by instinct, had no formal training or education in business and desperately needed help if I was going to develop it further. Coaching renewed my enthusiasm, my motivation and most of all showed me how to go forward – and applied enough pressure to make sure I carried out the strategies.

I learnt how to market, how to network, how to recruit, build a great team, set my USP, vision, mission and culture and so much useful information and advice. It was worth every penny that I spent and best of all my growth is up 15% and profit up 33% after the first 12 months of coaching. I am now looking forward to continued growth, expansion, development of new ideas and enjoying the challenges of business.

Brian brings an outside perspective that not only allows you to be more objective, but also draws on his own personal business experience to help identify potential problems and opportunities that you wouldn't have seen. Brian works very well at adapting and applying proven methodologies to unique business situations and brings a level of business acumen that is hard to find in the business coach / consultant arena. Highly recommended".

Peter Richman, Plug and Play
"Brian has that rare ability to put his finger on a troubling issue or sticking point from the simplest information, then diagnose and suggest a number of courses of action – all essential in a business coach. On top of that, he's a very personable guy and I recommend him without hesitation".

Bruce Hazelton, Member, BNI Guildford
"Brian is a straight-talker, canny strategist and a fully-paid up human being. I would certainly recommend him as adding value to your company with his business experience with ICI and excellent people skills".

Paul Nathanson, Director, PNPR Ltd
"Always thought provoking and challenging…provides golden nuggets of business advice to improve your company performance and profitability."

Mark Foard, Managing Director of CV Freight
"Extremely insightful…great presentations about core strategies to help me develop my business."

Zeineb Cox, HappyKids
"Fantastic…underlines what I must be doing to get there!"

Mark Beresford, Beresford Buxton
"Always inspirational..thank you!"

Dr Grant Pretorius, Farnham Chiropractic
"An excellent view of how to run and manage a business"

John Rooke Allden, LLoyds
"Brilliant session – taught me how to systemise my business – plan to attend one of Brian's 90 day planning sessions. I would recommend Brian – great knowledge, detailed information"

Chris Doran, Verus Marketing
"Well structured and logical – I learned effective team management and how to establish goals – maybe I need a coach"

Dick Haynes, Haynes Financial
"Very useful material"

Neil Parsons, Supply Chain Consultancy
"Really well delivered material"

Ray Sieber – KOD Kingdom Ltd
"Excellent session – starting to understand my limitations- plan to attend one of Brian's Business Rich seminars"

Jane Hardy, OSFS
"An excellent way of ensuring your business moves forward- the 5 ways Brian explained combined with the need to set KPI's is key"

Philip Mendonça, Peal
"It's a formula for improving success in a business – it can be followed and adopted by anyone"

Derek Brown, Auditel
"Useful, practical and knowledgeable – the need to plan and the formula for progress -Be multiplies by Do gives you the Have"

John Barlow, JELF Group
"Extremely useful and informative- key learning's for me was the 6 Steps process and the 5 ways"

Clare Chappell, TWM Solicitors
"The workshop matched my expectation to the full – the quality of the presenters was excellent, as was the subject covered. Overall a great experience"

Duncan Titmarsh, Bright Bricks
"Great use of visual aids and diagrams – so much better than being talked at. The size of the group at the GrowthCLUB made a great difference with excellent interaction- A real buzz in the room"

Caroline Jacobs, Caroline Garden Services
"The 5 ways business chassis that ActionCOACH explains will really help to set my numbers and grow my business"

Terry Murphy, Ionic Consulting
"This really helped me to set clear SMART goals"

Will Cheng, Opus Interactive
"The GrowthCLUB helped me to challenge my business plan and will help implement and redefine goals and actions"

Peter Lynagh, Lynagh Associates
"An eye opener that concentrates on wealth creation by working ON the business and not IN the business"

David Utton, David Utton Photography
"Inspirational"

Norman Wright, Wright Building Services
"Gets your brain working – both sides"

Rachael Oliver, Clockwork Recruitment
"The ActionCOACH Business coaching system is very powerful. I would recommend it to anyone starting a business or wanting to get a grip on their current business"

Nigel Cutts, Love at Work Foundation
"Very informative – I learnt so much in one day. I never expected to pick up so much information"

Merfyn Bonds, Le Draig Electrical
"Excellent day- helped me to identify key activities to focus on"

Jack Lee, Jack Lee Project Management
"An intensive session- so much to digest"

Francis Sachs
"An innovative and well structured morning- I need to work on time planning, structure and systemising my business"

Alvin Holder
"Very informative – made me look again at my business- I need tighter controls of finance and time"

Jerry Marshall
"Reminded me of many things I have tried to implement but have struggled to complete"

R Izod
"Enjoyed it – I need help with lead generation"

Lee Allen
"Learnt that I need to work ON my business – not IN it"

Salah Kamel
"We have been working with Brian, Action Coach for 8 weeks now and what he has already brought to the company in this short time is incredible. He has given us some real structure and direction with the Action Coach tools, as well as Brian's own knowledge and tools.
We are extremely excited to work with Brian for the coming weeks, months and years.
My only regret is that I wish I started with Brian and Action Coach 1 year ago when we first met."

Bradley Staines
"We have been working with Brian Doubleday from Action Coach since January 2018. We have found Brian's coaching to be exemplary. He shows a brilliant understanding of our business and has applied his knowledge and expertise to help our business grow by 43% over the last year. We would highly recommend Brian to any business owner looking for a coach or non executive to work with them."

Steve Pailthorpe
Business Growth Events
Upcoming Events by Brian Doubleday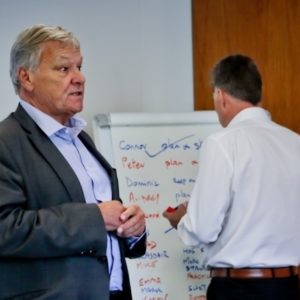 6 Steps to a Better Business 22nd February
Make your business work so you don't have to. 6 Steps to a better business Join us for this complimentary seminar on the 22nd February at 8:30am. Growing a business brings challenges. How you deal with the challenges and related growing pains is the difference between success and failure. This is a power-packed 3hr seminar…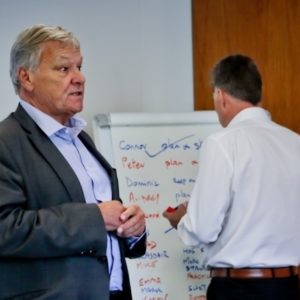 Complimentary Value Builder Event 28th February
What's Your Business Worth? …Really? Join us for this complimentary seminar at Holiday Inn Guildford on 28th February, 09:00-12:00. 80% of business owners will overestimate the value of their business, which means they'll be hugely disappointed when it's time to sell. All too often, businesses are missing crucial elements that could cost them dearly when it's time…
View the full business events calendar
Business Coaching with ActionCOACH
Business should be hugely profitable, fun and exciting. So is your business providing you with the life you've always dreamt of? Come and listen to one of the UK's most respected Business Coaches in changing the lives of Business Owners.
A Business Coach is better than a consultant for many reasons. With years of successful experience that can provide valuable insight, your Business Coach will help you develop long-term and short term goals and strategies, as well as improve your business in areas that you might have overlooked. You may be able to survive in business without the help of a Coach, but it's almost impossible to thrive…