Let's Work Together to Support You on Your Business Journey
Are you really busy? Maybe too busy to grow your business?
 If the answer is yes, then let me help you find a solution. As the owner it can be a real challenge to step back and take an impartial look at your business. I'll help you to see your business with new eyes – a strategic view of what's working well and what's not. It's a great way to create an effective plan that will make you even more successful.
What's the Investment in Coaching?
You're right to think of it as an investment and you're right to insist on a return on that investment – that's why I offer a guarantee. Plus, I don't want you hunting around my website for the investment you'll need to make in coaching, so here it is up front.
Coaching starts at £40 per month for the Business Book Club. Group coaching requires an investment starting at £229 per month, and one-to-one coaching starts at £995 per month, rising to £2495 depending on the number of people being coached and the tempo – more hours, more often, requires a higher investment.
 How do you know if you require extra support?
Managing the day to day activities within your company can leave you with very little time for business development. You may feel like you're firefighting each and every day. Perhaps you are a new start-up and are unsure how to create a business or marketing plan.
You're not alone; many business owners find themselves in the same situation. Where to turn and who to talk to is never an easy decision. You need to be sure the individual is knowledgeable; able to ask the right questions and provide the necessary focus.
Garry Crosby has over 35 years' leadership and management experience. He joined the Royal Air Force at the lowest rank and made his way up to Wing Commander. He has had the privilege to command one of the RAF's front line flying squadrons, where he led almost 200 people. After the RAF, he moved into industry and worked internationally on airborne and space systems, leading sales, marketing and research teams.
Contact Me
The building blocks for business growth
For 25 years, the ActionCOACH system has a proven track record around the world for business growth. It's a business system and process for you to follow with a series of strategies and systems, proven to help small businesses. Garry will show you the areas you specifically need to focus your efforts on. Our system has 3 core areas. These are designed to ensure you develop a business growth strategy that is right for you.
Giving you TIME back in your hands
This is all about lifting you out of the day to day activities so you can start growing your business. That might sound a bit alarming, but you will learn how to increase your efficiency levels, save money and get more out of your business in less time.
Build the right TEAM for your business
You can't run a business on your own. Building a good team is the key to success. Which means you need to attract the right people and identify the leaders you already have in your business. Once you have done this you need to get everyone working together towards a common goal.
Contact Me
Secure your sales and improve cashflow
This can often be an uncomfortable area for business owners. To put a spotlight on your numbers can be a bit of a reality check. What does your balance sheet look like? What are your cashflow challenges? How much profit do you make? For many these are tough questions to answer which is why additional support can be really helpful.
Garry will guide your through the process in each of these areas. The output will be a 90-day business plan that you have built together. This will be the basis of your initial focus. It is visible so you can check on progress and actionable in terms of detailing key tasks. But most important, it will be measurable so you can track results.
You decide on the right level of engagement
Not everybody works in the same way. Some of us benefit from group interactions while others prefer more of a one-to-one approach. Which is why ActionCoach have a number of coaching packages. You can choose the one that will suit you the best.
GrowthClub   
Format:           Planning workshop
Frequency:      4 times a year or once a quarter
Aimed at:        Business owners who want to create a plan and keep themselves accountable for delivery
£149 + VAT for the day, or pay £50 monthly to ease cashflow
ActionClub
Format:           Group coaching programme
Frequency:      Twice a month
Aimed at:        Business owners who want to focus on each area of their business and draw on the shared experiences in the group
£229 + VAT per month for two 2-hour sessions
One-to-one Coaching
Format:           Individual, bespoke coaching sessions, face-to-face or via video link
Frequency:      You decide, once a week, every fortnight or once a month
Aimed at:         Business owners who want to focus on their objectives to get clarity, structure and accountability
From £995 + VAT to £2495 + VAT depending on the number of people being coached and number of sessions per month.
BookClub
Format:           Business education in a relaxed social setting
Frequency:      Once a month, evening or breakfast time (there's 2 Book Clubs!)
Aimed at:         Like-minded business owners who are interested in expanding their business knowledge through books and conversation
Garry also offers a series of 'taster' sessions for his business coaching. You are welcome to attend one of these. Why not come along and see if this is something that could be of real benefit to your business. If you want more details get in touch with Garry today.
£40 + VAT per month
You have my personal guarantee
This is the part where I will offer you a guarantee. It's not an easy decision to accept you need help from a business coach. But I genuinely believe in the ActionCOACH system and have seen the results first-hand.
That's why I offer a guarantee to my clients. This is for anybody who invests in one of my coaching programmes and completes the actions we agree. The result will be an increase, after 12 months, in your gross profits that will be more than you invest in coaching. If that doesn't happen then I will continue to coach you for free until it does.
Why not get started now?
Contact Me
My No.1 Focus is YOU and Your Business
Coaching means working together to boost your business. We work to achieve your goals, using systems and strategies we pick from the ActionCOACH system. My entire focus is on helping you to achieve your ambitions for your business; everything we do together will move you closer to your business and personal goals.
Always Look on the BRIGHT Side of Life!
"Great opportunity to be at two workshops/seminars in the last couple of weeks led by action coach Garry Crosby.

A real professional and master of his craft; I experienced lots to stimulate my thinking."

Julian Bright - Bright Insight Ltd
Dreams, Goals, Plans, Action!
Recently I attended Garry's Growth Club and mapped out my 90 day plan based on the theories and systems Garry suggested. I am 2 months into that plan and my business couldn't be in better shape moving forward.

John Sinclair - Loman Miller Associates Ltd
Real People, Real Results!
"Where would you like me to leave a glowing review for yesterday?...I thought you delivered the day fantastically...Great to create a deliverable action plan."

Peter Rushmer - Flagship Trucks Ltd
Loads...and loads and loads!
"The real takeaway was that I need to start thinking like a business owner, rather than as an individual. I learned loads and loads and loads!"

Bev Thorogood, Floresco Training
Already Seeing an Increase in Sales
Garry is an absolutely fantastic coach! Spending time with him has meant that I am now thinking completely differently about my business.

Katie Lane
The coaching session with Garry was fantastic! His coaching style has encouraged me to reflect upon and evaluate my current practices and consider ways to further develop my business in the future. Thank you so much for a fantastic session. Highly recommended.

Suzanne Heaven, Heaven's Homebaked Cakes
Professional and Insightful
I just want to say Garry has helped me massively over the last 3 months, I have found his sessions, very professional and insightful. He has aided me in making some rather large decisions and been great to hold me accountable and wonderful to have someone on your side, offering advice. Highly recommend

Deborah Moulson, CareerJuice Recruitment
Vast Range of Business Knowledge
We had a fantastic Planning Afternoon with Garry last week. Professional, personable and approachable with an extremely vast range of business knowledge - who knew there was so much to know about a Post-It note. Mind blown! Garry, thank you for challenging us all in a way that seriously got us thinking about various aspects of business growth and how to implement various strategies. I look forward to working with you again in the near future!

Alice Manby - Talkspace Group
On of the Best Decisions I've Made
I am so glad I found Garry - I was preparing to launch a new business, and a little unsure of whether I was on the right track. I decided to look into finding a business coach, and couldn't have found a better one.

Garry really took the time to understand where I was trying to go.
His strategic insight was invaluable; he could always ask exactly the right question to get me to go down the right path (and make me think it was my idea!).

I never felt like I was asking a 'stupid question', even though I'm sure some of them were, and I really felt like he cared about the outcomes for my business.

Thanks to his support and guidance, I have now launched a programme that broke even after just 7 days, and continues to grow. I am confident that my plan for the business will stand the test of these early years, because we have planned for everything!

Working with Gary was undoubtedly one of the best decisions I've made for my business.

Emily Hughes, Parents Guide to GCSE
The coaching sessions with Garry have been hugely beneficial, especially in relation to how I think of my business in terms of growth. I can now move forward with a better idea of how to evaluate profitability and how to use my strengths more effectively. Thank you Garry and I am looking forward to attending the Quarterly GrowthCLUB planning workshops.

Mary Vincent, Willow Tree Gin
Business Growth Events
Upcoming Events by Garry Crosby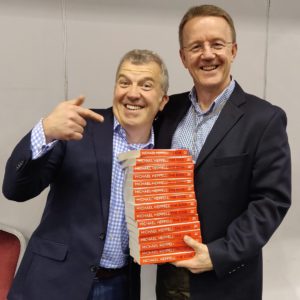 actionclub Group Coaching
ActionCLUB Taster Session
Are you ready to set your business on the ultimate track to success? If so, then ActionCLUB is for you. Join us for a FREE taster before you commit to joining other, like-minded business people looking to improve their businesses.
View the full business events calendar
Client Testimonials
ActionCOACH's Proven System for Business Growth
You don't have to take my word for it! Across the UK, hundreds of ActionCOACH clients have provided video testimonials explaining the profound effect that our system has had on their businesses (and themselves). These are real people, getting real results from the huge range of systems, strategies, tips, tools and checklists that ActionCOACH can use to boost your business growth.