Are you a time-starved, busy business owner or director working more hours in the nitty gritty than you'd like?
Most likely that'll be preventing you from spending enough time on the high-value activities that'll enable you to grow your business.
Skill Fun Matrix
One tool you can use to help you make better use of your time is the Skill Fun Matrix.
Any task you do can be assessed by two criteria:
Skill – what level of expertise is required to do the task effectively
Fun – how much you enjoy doing the task and/or how much it interests you
Each task you do will be low, medium or high fun for you, and require a low, medium or high skillset – as shown below.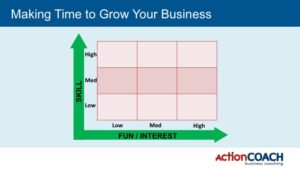 Low Skill – Low Fun: £10/hour jobs
So what tasks and activities are you doing in your business that are low skill and low fun?  For example, are you doing general administration or bookkeeping?  I've met business owners who clean their own premises in a bid to save money.
While its possible to save a few pounds doing these relatively straightforward tasks, you're not adding any real value to your business in terms of delivering to your customers or winning new customers.
Medium Skill – Medium Fun: £20-50/hour jobs
When you free yourself up from £10 hour jobs, you'll have more time to work on these higher value activities that will enable you to grow your business. Examples for medium skill, medium fun tasks might include marketing your business and selling your products and services to new and existing customers.
High Skill High Fun: £100-1000/hour jobs
At the top right corner of the Skill Fun Matrix we've got tasks that you really enjoy doing, require a lot of expertise and bring great financial value to your business. When you're working on high skill, high fun tasks you'll be adding more to your bottom line than with any other activities you do. Example activities might include creating your business growth marketing plan or developing your team.
Growing your business
If you're committed to growing your business, you'll want invest at least 5 hours per week on work that brings value to your business.  Ultimately your longer-term aim is to spend 80% of your time on strategic, 'on the business' work. That'll mean growing your team, in both numbers and skillset, so they can do the lower skill and lower value tasks.
I wrote another blog about the process of becoming aware of the opportunity costs associated your use of time. This process can help you let go of lower value tasks so that you can focus on growing your business.
Growing your team
The most cost efficient way to leverage your time through your team is to delegate the £10/hour jobs first. Some these tasks might even be suitable for outsourcing, meaning you don't need to physically bring in another person to your team at all – reducing both your costs and risk.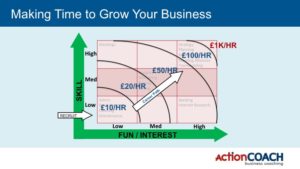 Longer-term you'll want to create a career development path for your team members so that they themselves can increase their value to your business.
There are two key advantages to having a career development path:
You'll attract and retain a better calibre of team member if you can demonstrate professional opportunities within your business
You'll get better results from your team members as you develop them and they develop themselves
Orange Box Thinking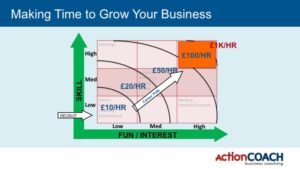 My colleague Andy Hemming, coined the term 'Orange Box Thinking'. Changing how you think about your use of time will have a major impact on your business once you start to actually leverage your time and focus on work of the highest value that you can.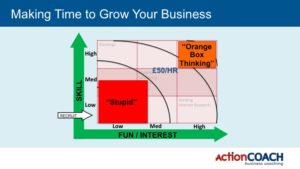 Conversely, you run the serious risk of killing your business if you hold onto £10/hour tasks – perhaps because you think its easier or quicker for you to do it yourself.
And if you hold onto the £20/hour jobs its highly likely that the growth of your business will stagnate once you've reached your personal capacity to do medium value work.
I wrote another blog here about analysing your use of time that you might find useful. A great question to ask yourself at the end of each day would be, "How much 'stupid' am I doing?" It's a great way to focus your thinking and make the best possible use of your time.
If you'd like to join us at one of our business improvement events in the North East, visit our Events page or click here.
EVENTS PAGE