When you're aiming to grow, improve and systemise your business there are four basic business habits you'll want to adopt.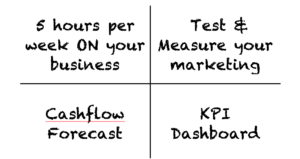 1. Invest 5 hours each week to work ON your business
Many business owners and directors spend less than one hour each week working ON their business. Yet time is the magic ingredient in the growth and systemisation of your business. Without the investment of time to work on your business, change and improvement is slow or non-existent. If you've got your head buried in the sand when it comes to carving out time to invest ON your business, read how to find time here.
2. Test & Measure
Testing and measuring is the process of determining exactly which of your marketing activities generates you a financial return on investment. It all starts with you knowing exactly where each of your leads, opportunities or enquires come from. Sadly, at least half of all marketing fails to give a financial return. So without testing and measuring, there's a strong possibility that your marketing is costing you financially. Read how to test and measure here. 
3. Cashflow Forecast
A Cashflow forecast is simply a realistic prediction of your bank balance in the future, typically 3-6 months ahead. And because both growing and systemising your business cost money you'll want to know that you can fund your growth and business development as well as pay your bills and yourself. And knowing about cashflow problems well in advance gives you time to investigate the options to narrow any cash gaps.
4. KPI Dashboard
Just like in your car, your dashboard gives you a quick overview of the key performance indicators (KPIs) in your business. KPIs are the numbers that you've chosen for your business that will tell you how your business is performing. Having a dashboard will enable you to make informed decisions, rather than relying on gut instinct. Read more about creating your KPI dashboard here.
By implementing these four basic fundamentals you'll be in an extremely strong and informed position in your business. Your foundations will be solid and you'll have control of growth of your business.
If you'd like to join us at one of our business improvement events in the North East, visit our Events page or click here.
EVENTS PAGE