Do you or your team produce content for digital platforms such as LinkedIn, Instagram, Facebook, Youtube or even email marketing?
There's no mistaking that content marketing is essential in the Internet age. Studies that indicate that at least 70% of a customer's buying decision is made before they even contact you.  It can be extremely time-consuming to put content together, yet not all businesses see an increase in leads and sales from their effort.   And in many cases, it can cost more to produce the content that it generates financially.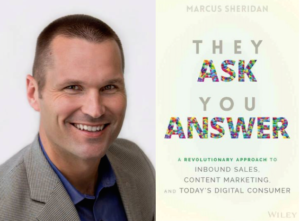 In the book, 'They Ask, You Answer' Marcus Sheridan explains how to create content marketing that generates real financial results.
Sheridan believes the key is to become the most trusted voice in your industry to your target market by understanding the way your potential customers think, act, talk, and search as they move through the buying process.
Sheridan recommends you do this by addressing the five essential subjects that your buyers care about the most:
Cost
Problems
Comparisons
Reviews
Who or what is the best
Most businesses don't like to talk about these subjects online. Sheridan shows you how to address these five 'elephants in the room'. And how, by doing so, you can start to see better financial returns with your content marketing.
If you'd like to explore how business coaching can help you, click here to book a complimentary business strategy session. 
BOOK MEETING