Jeremy Graham-Clare the Business Growth Coach & Mentor
A Business Coach & Mentor
Guiding business owners, like you, who are;
looking to position your company at the forefront of the industry
deciding what your personal future needs to look like
introducing addition resource to the business
develop strategic plans for; the business, product development, sales and marketing
advance the company's; mission and objectives, revenue, profitability and growth
considering what an exit strategy might look like
looking for additional funding streams for growth
With over 20 years experience of running, owning and selling his own and other's businesses Jeremy is ideally positioned to help you right make a difference to your life right now! Jeremy helps business owners, just like you, through providing a deep insight to your company's operations enhancing;
efficiency,
quality,
service, and
cost-effective management of resources.
Q. WHY DOES IT PAY TO WORK WITH A BUSINESS GROWTH SPECIALIST?
A. TO GET YOU THERE FASTER!
You are already running a good business, probably have the makings of a great team but does this all depend on you? We work with business owners looking for the holy grail of running a commercial, profitable business that works without them.
You probably are skeptical about how someone else could come in and help you with all the years experience you have but isn't it interesting that people such as Bill Gates, Richard Branson and Lord Sugar all had and have coaches.
In an increasingly competitive world where only 1 in 10 businesses survive for a decade, as an ActionCOACH Business Coach, Jeremy is no longer a luxury, but a necessity for business growth.
My No.1 focus is helping YOU realise YOUR true potential
You started your business with a real leap of faith in your own ability and extreme bravery to follow your passion. You are successful, wanting to achieve even more but are being drained by running a business and are losing time because of it.
If this is your reality, I want to help you. As a successful business owner and Director myself with over 20 years' experience, I am dedicated to working with passionate business owners committed to achieving the most they can in business and in life. Together we can narrow the gap between where you are now and where you want to be, irrespective as to the stage you are in the business. We will achieve this through a combination of working on personal development, of you and your team, to create higher performance, and through sharing my; knowledge, experience and expertise to move you from your current capability to your optimised capacity. Together we will create a commercial, profitable enterprise that works without you, where work is a choice and you have options to further grow your business or have an exit strategy. Your business is there to enhance your life, not be your life.
For me, coaching is both an enormous privilege & an enormous responsibility. My clients don't just let me into their business but their lives too. It's not always an easy process, but the benefits are unquestionable. Some people think having a business coach means you don't know what you're doing, but they couldn't be further from the truth. How many top athletes or football teams do you know that don't have a coach?
Business Growth Events
Upcoming Events by Jeremy Graham-Clare
PlanningCLUB
PlanningCLUB, Business Planning Workshop
PlanningCLUB… our newest group coaching program – designed to help guide you through the business planning process more  simply, effectively and effortlessly than ever before! Why You Absolutely need a Business Plan….. Business planning enables you to steer the business with clarity, precision and  purpose and serves as a benchmark for growth. With PlanningCLUB, you …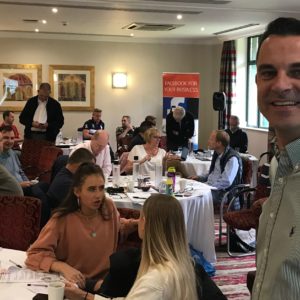 View the full business events calendar
With the Help of My ActionCOACH Business Coach
Real people – real results from turnover, profit and resource increases to what you will do with your spare time.
Eric Schmidt the former CEO of Google put it simply, "without the help of a coach nobody can realise their full potential" … ActionCOACH business coaching and mentoring methods have worked for tens and thousands of SME business owners in over 75 countries – in fact I'm so confident that you'll get a Return On Investment with one of my coaching programmes that I guarantee it.