We've been here before, so at least this isn't going to be totally alien to us. But there's no getting away from the fact that Lockdown 2.0 will create additional pressure on your business. But remember – diamonds are formed under pressure. Now is the time to focus on the Be x Do = Have formula, and specifically the Be, i.e. what do you want to Be – how do you want to approach the situation? How are you showing up? What might you want to put into how you are thinking, believing, and learning?
In these situations, it's useful to know where your thoughts and actions are. Which Zone from the diagram below are you in? Which do you want to be in? (click the image to view it in full size)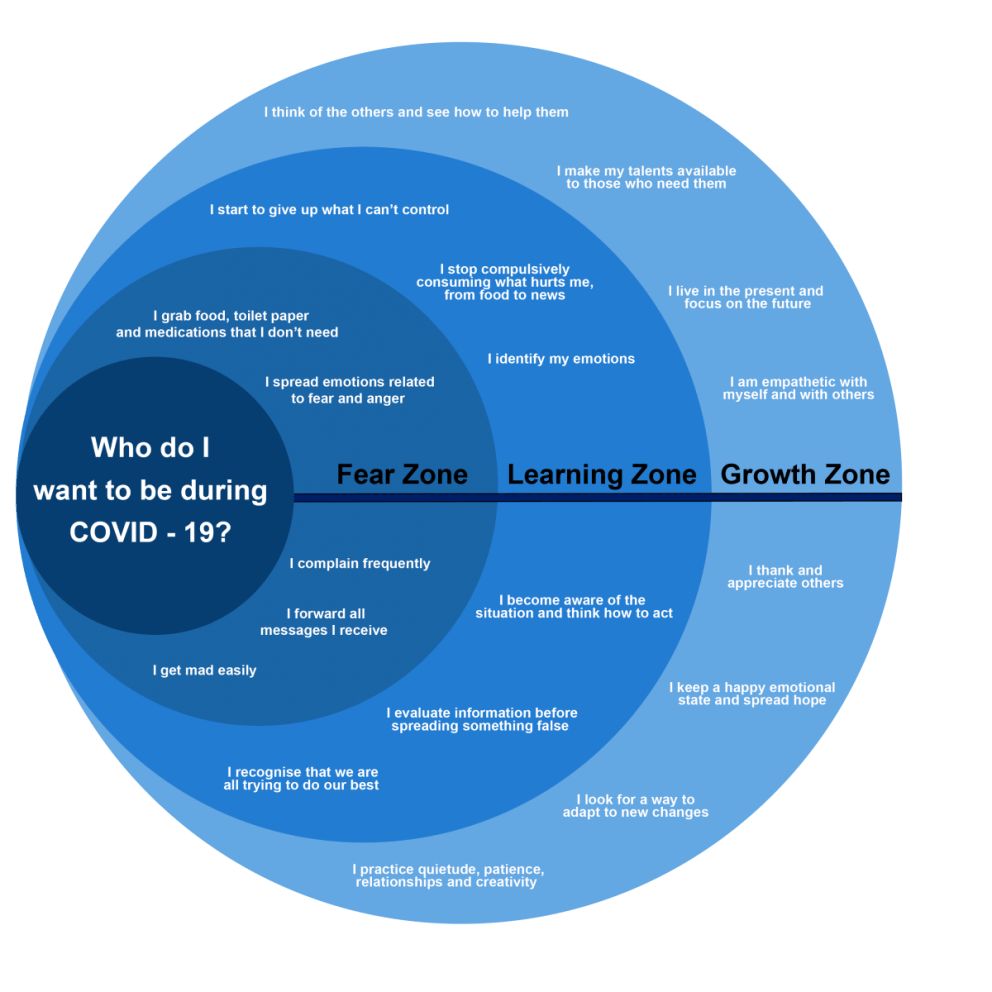 The Fear Zone
It's easy to fall into the Fear Zone, especially if you're one of the many businesses that has been badly affected by the lockdowns and restrictions. 2020 has been full of uncertainty – from the initial news in March about a virus that could take 100s of thousands of lives, then all businesses except a small list of essential ones being told to close and the public told to stay at home 'to protect the NHS and save lives'.
Through the summer there was hope, the gradual opening up of many businesses, however it's been extremely difficult for certain industries (including hospitality, events and travel/tourism). We have been warned for months that there is a chance of a second wave, although so far it has not been as devastating as the first one for hospitalisations and deaths. To prevent our NHS being overwhelmed, we are now starting a second lockdown. Of course, this creates fear and anxiety once again – compounded by our media with their data and graphs showing worse-case scenarios during the televised press briefings.
Staying out of the Fear Zone into the more constructive Learning Zone
Our most powerful weapon is our mindset. Remember we cannot change what we cannot control, but, importantly, we can change how we react to it. We do have control over our emotions, our ways of thinking and reacting.
One thing that can help is by giving yourself a break from the media, news and social media. Switch off from it for a few days – even one day will help you refocus your mind on what you CAN do rather than what you cannot.
Identify and write down the things you still have that are positive – these could include aspects about family, friends, health, home, pets, your talents, something in the future to look forward to or perhaps something new you can learn. Gratitude is amazingly powerful in quietening down our worries and concerns.
Moving into the Growth Zone
Start forward thinking – 2021 and what your goals are for the next 12 months. You cannot be certain on what will happen with the virus, your business and your life, but it is still important to have goals and a plan to guide you, even if you need to adapt it as time goes on. Realistic goals give you something positive to work towards and focus on. Some goals can be reached no matter what happens with the virus and lockdowns, e.g. diet and fitness goals, learning something new through reading or online courses, changing how you sell your products to an online store.
Remember that many, many businesses are going through these extremely challenging times – you are not alone. If you learn any ways to get through some of the difficulties, tell other people about it and give them advice. Knowing you can help others through this will give you another purpose and is great for your confidence. It also helps build relationships with people – in business and personally. Something we could all do with right now.
We are human Beings not human Doings – makes sure you work on your Be.