Business Coaching · Marketing Coaching
Are you working IN your Business, rather than ON it? Jonathan understands that running a business can be overwhelming, complicated and stressful. Successfully dealing with everything from taxes to Marketing as well as finding the perfect work / life balance – can leave you feeling unfulfilled and unmotivated.
What if you had someone to guide, encourage and facilitate you? Jonathan has 30+ years of business experience, is Chairman of Plymouth FSB and has a team of Marketing specialists behind him.
Jonathan Keable is a trusted and licensed Business Coach, Consultant and Transformational Expert. He is the owner of Business Success SW Ltd., based in Plymouth, Devon.
Jonathan and his specialist team will help you achieve the results you first went into business for whilst injecting the fun back into your life.
Whether you need to master and develop your vision, mission, business plan, target market, sales strategy, team performance, convert prospect leads into customers and build a strong customer base that keeps buying from you, Jonathan has been there and done it.
With over 30 years of successful Business Management experience and the proven strategies from his world class business coaching partners; Action Coach & Luv4 Marketing, he will help you fast track to Business Success.
In an increasingly competitive world where only 1 in 10 businesses survive for a decade, a Business Coach is no longer a luxury, but a necessity.
Book your free no-risk, no-obligation Strategy Session with Jonathan here today, to see how you can move your business from Good to Great.
YOU! Perhaps you're so busy working 'in' the Business that you're unable to work 'on' the Business; which is where the growth, expansion and real success lies.
I need to market my business more effectively
I am now aware that I now need to market my business more effectively!

ESSA Drama
Direct style, no fuss, no waffle
It is vitally important to take time out of the business day to day and talk with an independent expert about what the business could look like going forward, and the steps needed to get there. Jonathan has a direct style, no fuss, no waffle just plain speaking – highly recommend.

T. Randell
Life changing for both my business and my personal life
I have worked with Jonathan now for over 7 months. His positive attitude to all aspects of life and business reflect on how he mentors. I have found working with Jonathan life changing for both my business and my personal life. He is able to put all the pieces together to help build your business, attitude to business and work ethics to ensure it runs smoothly and most effectively. I can most definitely recommend Jonathan and his excellent service.

Paul Davenport
Excellent, independent advice and guidance for anyone in business
Excellent, independent advice and guidance for anyone in business. Jonathan helps a business owner with clarity, goal setting and time scales to achieve targets. Plenty of tips for growing a business and maintaining clients.

L. Bassett
Jonathan's business knowledge is invaluable
Jonathan's business knowledge is invaluable. He has been able to guide us on the actions we need to take to make dramatic improvements to our business, but in small manageable steps. Jonathan has really helped us to focus on what we want to accomplish, and we have implemented some brilliant processes which have achieved great results already.

House of Harris
This was the 1st step forwards to planning our future
It got me to take a step back and look at my organisation….. to start formulating a 5 year plan.
I learnt how to start a plan..understanding the impact of financial decisions and the impact upon margins. This was the 1st step forwards to planning our future….including our team to be involved in our transition into a company with a path and destination

Phil Rivers
Business Growth Events
Upcoming Events by Jonathan Keable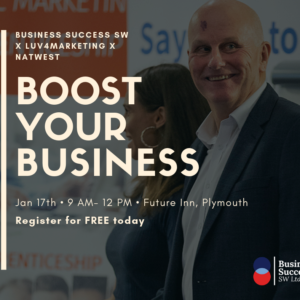 Engage and Grow Group Coaching Natwest PlanningCLUB Seminar
Natwest X Luv4Marketing X Business Success SW
Is Your Marketing Achieving The Results You Need For Your Business? Do you want to generate and convert more leads? Do you want to revitalise and refresh your brand? Would you love loyal, repeat customers? NatWest invites you to the first of a series of complimentary events hosted by Luv4 Marketing. Is Your Marketing Achieving…
View the full business events calendar
Jonathan Keable - Business Success SW
What does your #BusinessSuccess look like?
Our monthly coaching programmes are specifically tailored to you and your Business. Jonathan Keable and his team at Business Success SW will help you to develop, implement and manage a successful Business and/or Marketing strategy.