Late Payments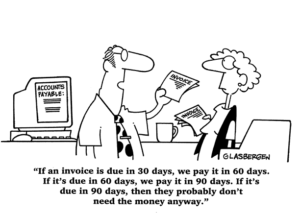 A high percentage of small businesses have experienced late payments, meaning that many have cashflow problems.
Late payment occurs when a business has been supplied goods or services on credit but fails to pay within the agreed term.
Legally, if no explicit payment terms have been agreed, payment is assumed to be due after 30 days for the purposes of charging statutory interest.
In March 2018, FSB won a commitment from the Chancellor of the Exchequer that Government will tackle the scourge of late payments to small businesses in the UK. This has led to a Call To Evidence published in October. [Click Here]
Do you have a solid, effective late payment process in place? Do you produce credit checks and follow up in a swift, professional manner?
We see it all too often; Business Owners spending too much time chasing unnecessary late payments… this can quickly become a time-consuming, stressful circle, impacting your bottom line.
Let's get on top of any late payments, and implement a solid plan moving forward. Book in for a quick phone call today: http://actioncoach.co.uk/coaches/jonathan-keable/book-meeting/