How to Build Your Brand, Not Just Your Business!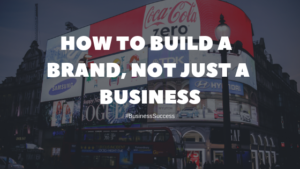 Your Business and your business brand are two separate entities. Your business is the foundation for your brand, it is the products and services that you offer i.e. your business model. This is why we place great emphasis on creating an effective Business Plan that runs alongside, and interlinks with, a results-driven Marketing Plan.
Without a clear Business Plan (i.e. your goals, next steps, long-term vision, mission etc.), it's unlikely that you are able to create and implement a successful Marketing strategy, as you won't have the basic, business-specific answers to the following questions:
Who is your ideal customer?
What are your USPs?
What specific language and Call to Actions will you use to effectively convey your Business messages, both short-term and long-term?
What upcoming trends/events compliment your business goals?
What is the long-term plan for your Marketing?
What is the short-term plan for your Marketing?
However, building a brand is not something that happens overnight; it evolves over time as your Business grows, and as you gain useful insights through testing and measuring. Your brand should have a personality that reflects your overall business aims.
To chat about your Business and/or Marketing, we'd love to chat: 01752 220 377, or book in for an initial phone call here: http://actioncoach.co.uk/coaches/jonathan-keable/