9 STEPS TO….. RE-THINK, RE-INVENT, RE-OPEN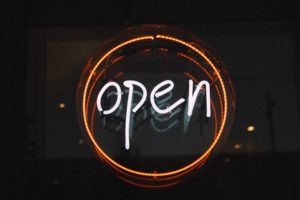 Re-opening your business after lockdown will be like the first time you opened.  You need to think about how you do business going forward as re-opening is tougher than shutting down.  How will people walk through your business?
RE EDUCATE AND PREPARE
Walk through the buying process
Use common sense – you need to be seen to be cleaning continually

Put up barriers/screens/Perspex between tables/desks.
Obtain PPE and use where necessary.

Think about how you can make people feel safe.

Use directional arrows and mark up the floor to show 2m spacing.

Adjust and adapt as you go along – have a flexible approach.
Think about when you first opened – how many times did you make changes?!
RE BUILD YOUR TEAM
Your Team consists of colleagues, customers, suppliers

Communicate to your Team (staff) what is happening and what is expected of them. Remember they may be scared of coming back to work and entering an environment of potential 'harm'.  Demonstrate and communicate to them about what facilities they can expect when they come back to work and how they will interact with customers.
Have flexible hours available for staffing
Re-build your community and communicate

Think about how you will work with your staff around meetings/safe distance working/capacity/toilets

Expect reduced productivity at first – increasing as you ease back into working.
You need new protocols and standards.
Production may take time.
Everyone is 'new' again so you'll need to think about retraining.
Install a doorbell so you can keep your office/entrance door shut and people enter with distancing and capacity needs.
RENEW WITH DEALS FOR DAYS
Think about deals for different target audiences
Make sure you focus on getting your top 20% of customers back that generate 80% of your revenue. Make them feel special.
Give NHS and Key Workers a special deal.
Existing customers – think like them/what sort of offer would bring them out. People will be hesitant first to step out of the safety of their homes.
Don't lose the great things that were happening during lockdown.
Let them know 'due to social distancing we will be doing the best we can. Come and try us out'.
Have deals on for a month at least – not necessarily discounting but adding value.
RE-OPENING ANNOUNCEMENTS
Build up the excitement to your re-opening. I / We Can't wait to see you.
Announce every step on social media and local radio/newsfeeds etc
Announce Team Members – welcome them back. Give them applause and make them feel welcome and safe.
Announce deals/dates.
Photograph screens and other safety preparations that you've put in place.
Get people excited about re-opening.
Make a list of announcements.
RE-DO YOUR CELEBRATION
Ribbon cutting – something memorable. Get the press involved.  Take lots of photos.
Celebrate surviving

Team photo
Customer photos
Community photos – tag and nominate for social media
Make sure your business neighbours know you're re-opening
Make it memorable and news worthy.
RE-RUN THE NUMBERS
Do the numbers stack up for re-opening. Need to know what the business is going to make and what it's going to cost.
Identify your break-even point and profit break point.
Use money wisely – how can you turn the money you have in your bank account into future money?
Keep extra cash on hand.
RE-THINK MARKETING AND SALES
Re-do your marketing plan with your coach.
Complete a SWOT for your business.
Re-view your competitors – what are they doing? What is their pricing and offers, what's on their website?
Look at your customer buying habits – these will have changed during lockdown. How can you pivot to meet them?
What do you need to purchase/produce in the new norm?
Help and educate your customers more on benefits of using you.
Remember 'Fear and Worry about your marketplace vs Excitement and looking forward'.
Test and measure different marketing messages and platforms – FB, Instagram are low cost. Make sure your marketing messages are meaningful and generate business.  Marketing messages are shifting fast so adjust yours as you go along.
There may be more steps needed in your sales process and it may take longer to secure new customers.
Use video especially for testimonials. These can simply be taken on a mobile and edited using iMovie.

Think about different locations for your videos.
Have a good microphone to capture verbal content

Use questionnaires for customers or feedback cards to ensure you are achieving the safety levels your customers are seeking.
Lose the 'pushy' sales person technique and replace with empathy and sympathy for customers.
Remember: The World has 'virtualised' itself in 8 weeks, whereas it would have taken 5-10 years.
Build a database of customers to create/maintain relationships going forward.
RE-THANK EVERYBODY
Send hand written notes to your customers and Team members, suppliers, bankers, accountants.
Let people know how important they are to you.
Remember also to thank the media, politicians, fellow business owners. Remember it's good to be 'alive'.
Drive your business forward.
RE-WRITE YOUR PLAN
Create a 90 Day Plan if you are still in survival mode, Create a 90 Day plan to Thrive.
Think of positives and negatives in re-opening.
You can't afford simple mistakes around the safety of your team and your customers and suppliers, so plan ahead to get this right.
Get help – speak to your ActionCOACH.
Take a few days off in preparation for your sprint forward.
Please feel free to contact me for a FREE 1 Hour Coaching call to help you kick-start your business
ActionCOACH Kathy Bassett  –  call 07952 112432 / email kathybassett@actioncoach.com