15 Ways a tailored CRM (Customer Relationship Management) system can save you time.
With the help of bespoke software businesses can save a huge amount of time and resources.  In this guest blog post Ashish Kumar of WebAlliance Ltd  explains how the use of bespoke software leverages  valuable time for businesses who want to grow and increase their efficiency: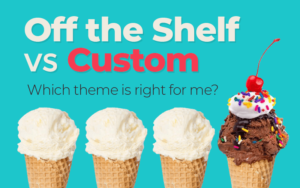 Simple, less cluttered systems. The software only has those options that the business needs.  These are presented clearly and can be found without lots of searching, saving time.
A Bespoke system flows in line with the working model of the business. Time is saved trying to get off the shelf software to match the requirements of the business.  It also means that businesses don't have to compromise and change their processes to fit with the CRM system.
Business is dynamic in nature, it changes all the time.  A bespoke system can  adapt in line with the needs of the business.  There's no need to look for a work around, if you need to make changes in a tailored made system you can!.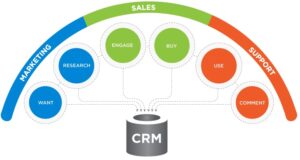 Staff training on the new software is much reduced.  Why? The new system follows the existing working processes of the business.  Staff are also much less resistant to adopting the new software as it's in line with the existing way of working.
Bespoke software is owned by the business, saving a huge amount of time and research that can be involved when switching from one application to another as in the case of off-the-shelf systems.
Bespoke software can be built in stages/phases. This saves time trying to plan for every eventuality and future proof the design.  The system can be built piecemeal, one element at a time allowing for testing and for it to adapt to the changing needs of the business.  This also means that the functionality of the software can be changed as desired.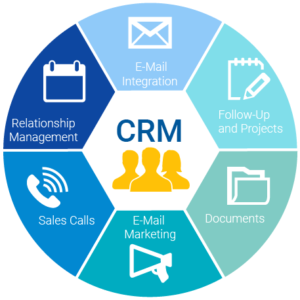 Client portals can be developed so that much of the information clients need can be accessed directly from the portal, reducing phone calls/emails to the business.   A client portal can also help a business communicate in a better more effective way i.e. keeping clients informed automatically via text or emails.
Customer retention rates are improved. A happy customer means more work and more profit for the business and can also mean that less time is spent selling to new prospects.  On average businesses need use only 5% of their selling effort to sell to an existing customer as opposed  to finding a new one.
Staff portals can increase the productivity of staff. They can be accessed on the road by the sales team,  by management as they're waiting to see a client and from home by staff remote working.   By using a staff portal admin can be constantly updated and any changes to a client account can be made in live time saving time following a client or site visit. Eg jobs completed, time off booked
Bespoke software has audit trails built into it which saves time should there be a need to see who did what when on the system.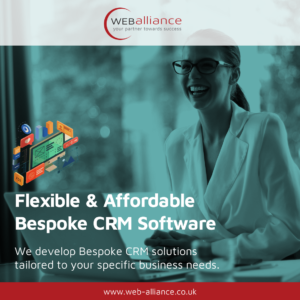 With bespoke software everything that the business needs can be found in one place. This reduces the amount of time staff have to spend looking for emails, documents, notes, reminders, and appointments etc
Bespoke software can talk to the various other related software that the business uses. This saves considerable time and avoids duplication, for example it can be integrated with the accounting package the business uses and a system set up where invoices and quotes are generated automatically
Any number of reports in any shape or form can be generated from the bespoke system. Graphical reports are proven to be quick to analyse and make sense of compared to lists of data.
Key Performance Indicators (KPIs) form an integral part of the success of any business. They can be used to understand efficiency levels and thereby recognise levels of individual performance. Ultimately they can be used to help a business make effective decisions.
If you're running a sales team then bespoke software can be used to introduce positive competition amongst team members. Each and every activity is recorded on the software, data can displayed on the dashboard and staff can see who's in the lead.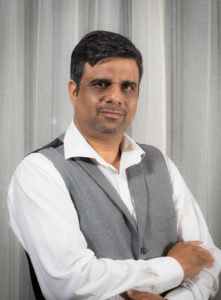 Ashish Kumar is Managing Director of WEBalliance, the company has have over a decade of web development experience to give you guidance throughout the process of web development including short, medium and long term strategic plans. So if you are looking for a real alliance to turn your business web capabilities around then come to us and we will show you what we mean by successful Alliance.