Perseverance - a nurse's perspective
In this guest blog post Gemma Dearsley from The Lighthouse Centre, a provider of holistic treatments to patients with long-term medical conditions or cancers, shares her experience of lockdown.
A date in March when Boris announced a national lockdown was going to be imminent, I had not worried about this having worked as a nurse through four previous pandemics (SARS, MERS, Swine flu and Bird flu) so I was pretty old hat at it.  Plus as with all the previous pandemics I was changing my job from district nursing to practice nursing, so I just assumed it would be exactly the same as all my previous changes.  How wrong was I!!
Not only came a national lockdown of all non essential shops, but GP's moved to telephone and online consultations, making minimal patient contact, something I really wasn't used to.  As well as non emergency surgery postponed as well as some chemotherapy and radiotherapy treatments being postponed.
I was the founder and was running a charity in Northamptonshire called The Lighthouse Centre where we offered complementary therapies to patients with cancer or long term conditions in their own homes.  Because we were already well established we were allowed to continue visiting.  HOWEVER, one of my volunteers was classed as "vulnerable" so I made the choice to stop her visiting and another of my volunteers works in residential care home, so it was deemed safer for her to cease visiting in the short term until we knew what the future held.
During my time as a practice nurses I realised it wasn't where I wanted to be long term, so I spent time applying for funding in order to run a project working with cancer or long term condition patients affected by Covid.   Thankfully I was awarded a grant from The National Lottery to undertake this project over a six month period.  So came Gemma changing her job slightly again to follow her dream and reach her goal!!  I was so happy I cannot tell you.  I was able to employ staff to undertake this project and we truly did make a difference in our patient's world.
I knew the funding was not going to carry on forever, so I applied to other places including Northamptonshire Community Foundation, in which we were awarded a further grant.  However, due to reasons beyond our control their grant money was not transferred into our account, so one of my members of staff had to move on as I was not in a position to be able to pay their wages.
In the short term I had a new volunteer, who was aware when I was in the position to pay them I would, so once the NCF funding reached our bank account I employed them on a short term basis.
As it goes we have 32 on our caseload, all of whom have a diagnosis of a cancer or long term conditions.  We have been able to discharge patients as we have made a difference in their world, we have had some patients die, and again we have been able to make a difference in their world.  But most of all we have been able to care and make a difference to these people, their family and friends.  Something which is priceless.
We treat people who have had the devastating news that "I am sorry there is nothing more we can do for you" "I am sorry your treatment is not working" as well as "I am pleased to say your treatment has been a success"  All of these people need our tender loving care, and that is what they have had.  As far as they have been concerned the world has not stopped, and they have been made to feel as important and cared for as they need to be.  No I didn't ever stop giving a hug to someone who needed it.  If I have a person who is dying or has been told they are going to die I will not deprive them of that human touch.  We are all very careful, and always have been, we would never knowingly ever put anyone at risk which gives our patients peace of mind in the time when they need it most.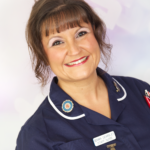 Gemma qualified as a nurse in January 2000, having worked in hospitals for 18 months she chose to spend her time as a district nurse preferring to get out and support people in their own space.
As well as continuing her professional nursing training, Gemma continues to train in a number of holistic therapies knowing how these can help her patients. Gemma says 'I have always had a passion for the holistic care of patients, this is where The Lighthouse Centre originates. I've had first-hand experience of the benefits for patients of being treated physically, mentally and spiritually.'