One of the hardest (but most important) things to get right for your business is recruiting great people. This is a vital skill for an ambitious, growing business.
At ActionCOACH we use a simple model called the Cycle of Business to illustrate how this works :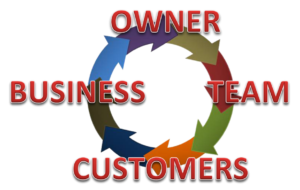 Fundamentally, the business owner looks after the team, who look after the customers, who in turn look after the business which then looks after the business owner.
In reality, this can be very different for a lot of businesses out there with the owner taking care of the team, the customers and the mechanics of the business all themselves.
So how do you go about recruiting and retaining an amazing team? 3 basic principles that will help you :
Recruit on Attitude and Values.
Looking around at job ads online and in trade press, you can see that 90% of them focus on the mechanics of the job – skills, qualifications, responsibilities, hours, pay etc. Very few businesses realise that this is where it all starts. Your job ad should be designed to attract the right candidates and deliberately not attract the wrong ones. So when you write the job spec, think about the softer skills you're looking for in your candidates too and reflect these in the job ad.
Of course, there will need to be a minimum skill level to do the job and this needs to be made clear, but don't focus on this to the exclusion of the values and attitudes of the ideal candidate.
As large a pool of candidates as possible.
What you're ideally looking for is a process that filters out candidates to the point where you have 2 or 3 great applicants for each role that you can choose from. This is very difficult to do if only 4 or 5 people apply in the first place. We've probably all been in that situation where we're down to the last 2 applicants and neither is particularly suited to the role but we feel we have to make a least worst choice.
Some of the things you can do here are :
Understand essential vs trainable skills and recruit to essential
Make sure your ad is visible in every possible way in your chosen geography (don't just rely on one website)
Engage your team, your suppliers, your friends and family – tell everyone you're hiring !
Harness the power of social media
Have an initial filtering task to move quickly from 40 or 50 applicants to the 15 to 20 who are really serious about the role.
Assess skills and attitude and values fit.
Once you've found your 15 to 20 motivated applicants, a 2 or 3 stage recruitment process will allow you to assess skills and also attitude and values. It also allows you to make sure that applicants understand the role and make it their first choice of all the jobs they're going for. This avoids nasty surprises for the candidate when they start or for you when you discover a few days before they are due to start that they've taken another job.
Some ways you can do this (dependent upon the role you're recruiting for) :
Organise group interviews early on in the process
Set up a written or oral skills test to ensure minimum skill levels are met
Involve the team they'll be working in with later stages of the process
Set specific and intentional questions in 1-2-1 interviews
Allow candidates to do a 2-3 hour trial in your business as part of the process
Be really clear about the expectations and opportunities for candidates
Let candidates speak to existing employees about "what it's like to work here"
Be clear about the company's values and working culture
And remember, what you're aiming for is to get to the point where you have a difficult decision to make because you have 2 or 3 really good candidates at the end of the process. What a great problem that would be !
And Finally ….
Once you've found your ideal candidate and they've accepted the job, keep them interested, make them feel part of the team already and help them look forward to their first week. Some ideas you could use are :
Send a congratulatory card and gift.
Let them know exactly what the process is for their induction.
If you have company polo shirts or other kit, get it to them before they arrive.
Prepare their work area and the things they need before they start.
Give them the opportunity to ask questions in the run up to the start date.
Keep in touch !
Allocate a buddy to show them around and help them settle in.
Share a clear induction plan for their first day / week / month.
All too often it's easy to forget the human side of the recruitment process. If you can make this more about fit – does the candidate fit the business and does the business fit the candidate – you stand a far greater chance of building an amazing team.
If you'd like to discuss this topic in more detail you can use the links on this website to schedule a 15 minute call at a time to suit you, or just drop me an email at markperry@actioncoach.com.