Book review: Radical Candor by Kim Scott
Do you get frustrated with people not doing what you've asked? Do you check that people understand their tasks but they still get it wrong or don't even do it at all?
This book helps you to get into the what and why of people's thinking and offers a real practical step by step guide to great communication so that it's a win-win on both sides. I particularly like this philosophy because it puts us in control of our relationships and shows us how we can steer the situation in a positive way.
This books will save you years on learning the hard way and get every relationship you have to be honest and open leading to a great working (or home) environment.
"Radical Candor builds trust and opens the door for the kind of communication that helps you achieve the results you're aiming for,"
Kim Scott has worked with the big boys, Google, Apple and the like and had a fair bit of fighting to do in her time. The main premise of her book is that being rude, shouting or acting like a parent doesn't get people doing their jobs. Her research shows us that a trust-based approach yields far better results.
"… it directly addresses the fears that people express to me when asking questions about the management dilemmas they face. It turns out that when people trust you and believe you care about them, they are much more likely to 1) accept and act on your praise and criticism; 2) tell you what they really think about what you are doing well and, more importantly, not doing so well; 3) engage in the same behaviour with [their peers] …; 4) embrace their role on the team, and 5) focus on getting results."
The main focus of her book is to get us all to communicate by 'caring personally and challenging directly'. So, in summary, to make it very clear, by living it, that you really care about the person you're communicating with at all times. Not only professionally in the workplace but in general, they as a person you really do care. Then, as a result, you are able to challenge directly, as soon as an issue arises. To be able to tell someone when their work is not to standard or their behaviour is not acceptable is so much easier when you've shown you're telling them because you care.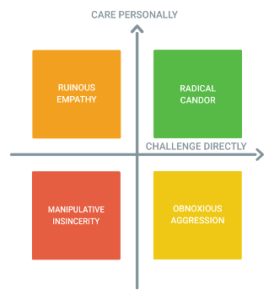 Care Personally Challenge Directly
Scott uses her 'Quadrant of Radical Candor' to show our behaviour patterns.  We often fall into unhealthy roles that do not foster the right behaviours. Too much empathy can be crippling and being manipulative and aggressive are often our learned defaults.  However, these do not lead to the recipient of our communication to believe we care about them.  They definitely don't think we care enough to accept our critical feedback as genuine help.
This book will help you with all relationships not only your professional ones; I really can't recommend it enough, in fact, it should be mandatory reading for every human being that lives or works with other human beings!