Achieve Your Business Dreams
Book Your Complimentary Coaching Session
Do you want to take your business to the next level?
If profit, time management, team efficiency and strategic planning are areas that you feel could be enhanced in order for your business to grow, partnering with a qualified and experienced business coach is a guaranteed way to ensure all your goals and business decisions are the right ones. 
Working with a coach offers an alternative perspective on your business operations, allowing you to see the bigger picture as well as having someone to hold you accountable to achieving your goals. Any successful athlete or legendary business owner has the guidance of a coach in order to ensure they're reaching maximum potential.
I offer 1:1 coaching, group coaching and 90-day strategy planning services, designed to help you make your business work so you don't have to.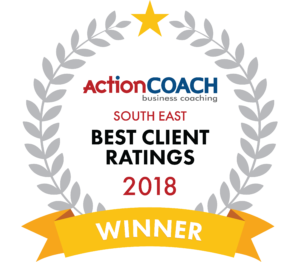 Neil Canty is proud to be awarded the Best Client Ratings in the South East 2018 by ActionCOACH UK
Growing your business with Neil Canty, ActionCOACH
Just like an athletic coach, Neil drives improvement through education, planning, accountability and support. With over 35 years of successful experience in Financial Director positions for some of the world's leading aviation companies, Neil's expertise in strategic finance can be applied to your business in order to help you to achieve greater success.
Through ActionCOACH, Neil offers strategies on systems, sales, marketing, team management and so much more.
More About Neil Canty
Business Growth Events
Upcoming Events by Neil Canty
View the full business events calendar
Become an Award Winning Client
Increase your profit, grow your team and have more free time
When you work with ActionCOACH, you'll discover ways to give your business the direction it needs to achieve results you're dreaming of.
After 15 years, pioneering design firm Danetti knew they needed to make some changes to their business, so enlisted in the help of ActionCOACH Neil Canty. In just two years, Neil helped transform the team structure, resulting in a team growth of 75% alongside a significant turnover increase of 178%.
Watch to see Danetti CEO, Daniel Smith, accept his BEF award for fastest growing business and talk more about his work and success with ActionCOACH Neil Canty.