There are a growing number of business awards designed to celebrate the achievements of commerce. These events are generally accompanied by a glitzy ceremony and champagne, but are they really worth entering?
Read on to learn more about the benefits of entering business awards and all the linked opportunities this practice can bring
What Are Business Awards?
There are a range of awards in the UK established to recognise the achievements of the country's businesses.
Some celebrate major national and international firms but there are also many events geared towards the innovative, small businesses that form the bedrock of our economy.
Business awards tend to be judged by an expert panel who assess applications made in a variety of different categories.
For example, award categories might recognise achievement in fields like digital engagement, marketing or growth.
Why Should You Enter?
Entering provides a range of potential advantages – even if you win or not.
PR opportunity
So the obvious advantage, is the marketing opportunity.
Reputable business awards can stir significant amounts of publicity in their own right but a savvy firm will also use the PR opportunity to create and share organic content about the event to generate leads.
For example, sending email broadcasts can nurture warm leads/existing clients and a simple press releases can capture a cold prospects´ interest … even blog content like this is a great chance to communicate with all your audience as it offers another opportunity to engage in a meaningful/relevant conversation.
What do you think? (See what we did there?!)
Gain credibility for you and your business
Winning a business award clearly differentiates you from your competitors, and can provide a real competitive advantage when seeking or retaining customers.
If you win just one business award, you have become an award-winning business. As a trusted and authorised entity, potential clients are more likely to want to do business with you and even help to attract new team members.
Take a Deep Dive into your business
Often business owners are so overwhelmed with the day-to-day running of their businesses that they do not get a chance to sit back and review their business. Rarely do they celebrate success, too often just focusing on what needs to happen next.
Entering awards is an excellent way to stop and reflect on what you have achieved and how you have achieved it.
You'll learn more about yourself, your business systems and what your clients really want from you. It will also help you to identify ways to further improve your business.
The application process for awards is often a very rigorous process which can provide you with a valuable opportunity to properly appraise your business. The process will often force you to adopt a new perspective on your business and encourage you to identify your strategic strengths and weaknesses.
The judging process is much like a benchmarking process, your application will be compared against other firms which are often of a similar size. So the process may give you an opportunity to assess your position compared to your peers and competitors.
Take our Award winning client, Danetti for example…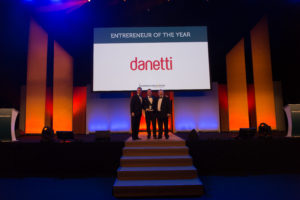 A high growth client, Daniel Smith of Danetti, was recognised for the second year running at the Entrepreneur of the Year Awards 2018.
In the three years we had worked with this pioneering design firm, CEO Daniel has worked solidly using ActionCOACH systems to transform his company structure.
This work has supported strong team growth of 75% and even more staggering turnover growth of 178%. You can watch Daniel accept Danetti´s award here.
Following their achievement, Danetti now have the opportunity to engage in a range of marketing strategies to further cement their industry status… all of which I´ll be following up with them on!
Just being at the awards exposed Danetti to hundreds of new businesses and put Daniel face-to-face with over 1000 European Business Leaders.
And, while review and planning form the backbone of our client work, the entry submission offered another chance to evaluate the figures and realign goals to continue growth.
Of course it was a pleasure just to share in the celebration and enjoy the sensation of success too!
How Do You Find The Right Awards?
Applying for business awards can be a time consuming exercise so it is important that you choose your battles carefully.
So which awards are really worth applying for, and which should you steer clear of?
Perhaps the primary factor to remember is that not every business award will be right for you. For example, it may not be appropriate for you to compete with huge multinational corporations so you need to identify the awards that are geared towards businesses like yours. And, of course those which present the greatest marketing opportunity.
Once you have found the right awards you need to work out which categories you should be applying for.
When choosing categories make sure you play to your strengths. Which fields does your business really excel in? Have you had exporting success or have you developed truly unique marketing strategies?
BizX2021
The Business Excellence Forum and Awards were created to recognise the 'Best of the Best' in the business world; the awards ceremony honours the achievements and accomplishments of business owners and professionals from around the world.
The European BizX Forum and Awards 2021 comes to Farnborough next April and you have the chance to gain recognition in front of more than 1000 European business leaders.
Take a look at the categories and sign yourself here, or get in touch and I can help you with the process.
BizX2021 Award Entry Categories
Attend the UK leading business event BizX 2021 and enter some awards. Winning a BizX Award will motivate and highlight the good work of your team, providing them with a level of confidence that will generate further productivity and growth throughout your company.
ACTION
The majority of business awards are free to enter, so you really have nothing to lose. All the time you invest can help your business improve, if you win it is a big bonus.
As always, here we come to make sure you've got ACTION to take right away.
If you want to learn more about how ActionCOACH strategies like this drove clients like Danetti to achieve their staggering results or how you too can enter for a BizX award, get in touch to explore your options,