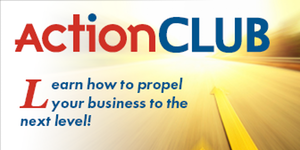 Join us for an ActionCLUB taster session on Wednesday 13th June 2018 from 9.30 – 12.30 at Frome Medical Practice
Leadership is the most influential and critical element of all businesses. Effective leaders have the necessary tools and skills to inspire and impact their teams allowing firms to run competently and smoothly. As a good leader, you should understand the mission statements, objectives, actions plans and goals of the company to be able to lead your workforce into realizing them.
During this taster session you will learn how to lead and build a profitable engaged team, including how to:
Recruit the right people
Manage your team
Create clarity for your team that excites and motivates them
What is ActionCLUB?
ActionCLUB is a program that builds a strong foundation for a business around ALL the key fundamentals of a business. It is a set program of 12 x 3 hour sessions over 12 months that lead you through the key components of running a business.
During the program you'll learn how to:
Achieve more by improving your priority setting and time management skills.
Define your unique selling proposition and turn it into a powerful, competitive weapon.
Dramatically increase your lead generation and conversion skills.
Develop loyal, profitable customers who keep coming back.
Differentiate between cashflow and profit margin.
Create 90 day plans on what needs to be achieved in your business.
Hire, develop and retain the best people.
Create systems that allow the business to run without you.
Who should enroll in ActionCLUB?
Small business owners
• Independent operators
• Start Up business owners
• Franchisees
• Trades People
• Self Employed professionals