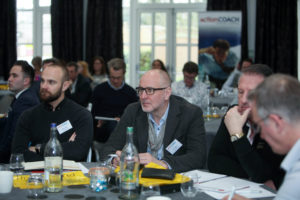 The 5 things you missed at this years SouthWest Business Growth Summit
This year, we decided to put on our biggest event yet, sharing proven growth strategies, tactics and systems for business owners to get an advantage over the competition and ensure their business is ready for growth.
The SouthWest Business Growth Summit 2018
At ActionCoach Frome, we have been helping business owners from different industries through 1 to 1 coaching, group training, seminars and workshops.
The business growth summit brought this altogether in one action packed filled day.
The feedback we received from attendees was so amazing that we're already working on The SouthWest Business Growth Summit 2019.
We're working on a bigger venue to fit more attendees however spaces will still be limited so make sure you don't miss out.
There is already a list of business owners that have asked to be informed when tickets are released. If you don't want to miss out, get touch so we can inform you and also give you the best deal.
What did you miss this year?
5 – The chance to network with almost 100 business owners.
Not only was the summit the perfect place to learn how to grow your business, it also provided the chance to network with all attendees.
With coffee breaks and a seated lunch, attendees were able to talk business between themselves.
We even know of certain deals that have come from that day.
Sponsorship stands were also located around the break areas, if you're interested in sponsoring next years event please get in touch to discuss the packages available.
4 Strategies and tactics for business growth shared by 4 experienced coaches
The main feature of the business growth summit was to provide attendees with knowledge of how to grow their businesses.
This was achieved by bringing together 4 experienced business coaches, all sharing proven ways for business owners to achieve growth.
The topics discussed included, managing cashflow, building the right team, effective marketing and proven case studies to name a few.
If you're thinking this is something you want to learn more about right now, feel free to get in touch with us to discuss which options are available.
3 Vic Ciuffetelli
With over 30 years' of business growth experience, Vic has helped businesses around the world including ActionCoach to achieve the growth desired.
We managed to bring Vic in as a guest speaker this year.
The reason we chose Vic is because we know he is passionate about ActionCOACH's philosophy of helping business owners create better businesses.
"He believes, through education and the coaching process, business owners gain insight that leads to impactful change in every area, including personal and family lives."
Keep an eye on our social media profiles to see who's making the shortlist for guess speakers next year.
2 Value builder and other freebies 
The action takers that attended this year's business growth summit, not only received the knowledge shared. They were also given a number of freebies.
The value builder is a new exciting tool we currently use with our clients. Most people will know how much their mobile phone is worth, maybe their car, house etc, yet we find most business owners have no idea how much their business is worth?
The value builder not only gives you an idea on how much your business is worth, it also shows the areas that you need to concentrate on to increase the value of your business.
We always look to reward action takers, we're already working on which items will be given away next year.
1 The chance to push your business in the direction you desire
The knowledge and tactics shared at this years growth summit gave attendees all they needed to take the next steps.
We know of a number of business owners that are now managing their businesses effectively since attending
Some are now being coached one on one or through group coaching and really madding strides forward in their business.
Ask yourself this:
Where would my business be if you came along to this years SouthWest Business Summit?
What's next for you?
Do you know what your next move is to grow your business?
If not, get in touch with us. We offer a number services to help different businesses and if we can't help we'll be honest.
Make sure you're on our list to be notified when tickets are available for the SouthWest Business Growth 2019 and also have a look at our upcoming events before then.