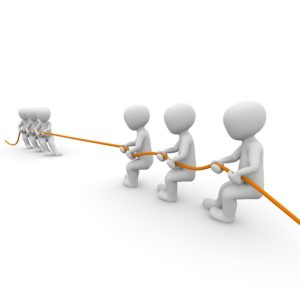 Have you ever tried to manage a team where some of the employees are engaged, and some are not? Perhaps you are managing one now- How's that going for you?
You have tasks that need to be done, you have deadlines to be met, you have a service to deliver or a project to handover on time. Half are pulling forward with you and the other half, well, they are kind of loitering, showing no initiative, putting in minimum effort, making life difficult for the ones who are on board. Morale dips, the deadlines start to not look do-able and you try your best to inspire and motivate, using your best coaching skills,but sadly all your best efforts are sabotaged.
Your boss is on your back because you aren't delivering, and questions are being asked, but no matter how much you communicate that to the team, to try to get them all to pull in the same direction it falls on deaf ears. The achievers get fed up with the non-achievers, and your stress levels start to rise. And don't be mistaken there is a real financial cost to this too
The good news is that businesses with engaged employees have-
26% less employee turnover | 20% less absenteeism | 15% higher productivity | Up to 30% greater customer satisfaction levels
So, let's drill that down even further to the four top reasons why it is essential to have your team on side-
Productivity When employees are engaged and feel connected with the vision, mission and culture of your business, they feel that the work they are doing is important and has value and quite simply, they work harder. They are less likely to be absent or call in sick, and that alone could potentially save you a huge chunk of lost time and money.
Retention Engaged employees are less likely to constantly be looking for greener grass. They are fully committed, and those expensive costs of recruitment and training are minimised.
Creativity An engaged employee is more likely to be thinking outside the box. They show initiative, they respond to and come up with new ideas, they employ their creativity to challenges and find ways to achieve the un-achievable.
Happiness factor An engaged team is a happy team. They will support you in a crisis, or when you are up against it. They will be loyal and become great brand ambassadors, they will do their best and enjoy doing that and essentially, they will make your life as the team leader easier.
So, what can you do to create better employee engagement? Here are a few tips that could help-
Listen to them– Hold regular reviews, find out what you can do for them, so they become more engaged and productive. Remember every employee is motivated differently. Then do something with that information so they can see you leading and taking action. Build relationships with them so they can see you care about them as people.
Encourage them– Encourage team work. Create a culture where the disengaged feel like they are letting the side and their friends down. Encourage friendships through social activities, team-based projects or team building activities.
Commit to them– Offer training to encourage personal growth. Loyalty is the key here. If you care enough about them to help develop their skill sets, further their career development and offer them learning opportunities they are far less likely to switch jobs. Lack of growth is one of the major factors that contributes to employees looking for another job.
Reward them– A survey shows that 60% of employees will stay with a company because of the benefits the company offers in the form of bonuses and employee recognition programs. Recognise them for a job well done.
If this has raised some questions for and you would like to find out more please join us at the DoubleTree by Hilton Bristol City Centre hotel for a complimentary employment law expert led event on July 18th, 9.30-1.00pm.
During this insightful event our qualified expert speakers will be covering:
Why employee engagement is vital for every successful business
Creating a highly engaged working culture.
Enagage your team and grow
Following the event you can enjoy a complimentary lunch with other regional business leaders and our team will be on hand to answer any questions you have.
Here are the details-
Date and Time- Wednesday July 18th 9.30 am to 1.00pm, lunch included
Venue- Double Tree by Hilton Hotel, Bristol City Centre, BS1 6NJ