I recently went to catch up with Amelia, the owner of Amelia's Chocolate, at her brand new chocolate shop in Scarborough to see how all her hard work and determination over the past couple of years have paid off.
There's definitely a buzz in the air as soon as I walk in. The café's busy with a networking group from Yorkshire in Business – just one of the many events now held here – and there's a steady stream of hot drinks being made as well as all the chocolates to sell in the shop.
I first started working with Amelia as her business coach two years ago. Her background story is an inspiration, and it's worth telling a small part of it to understand why she always wanted to set up her own chocolate shop, and what she's had to overcome to get to where she is now.
"Life's too short – enjoy it!"
Amelia's story really begins 14 years ago when her brother suddenly passed away from a hereditary heart disease, which Amelia later found out she also had. After a heart transplant aged 15, she vowed to never give up on her dreams.
Her motivation to set up her own business after becoming a Master Chocolatier has always been a personal one. And working closely with Amelia for two years has shown me she's driven by forces that not many people have.
She's a passionate campaigner for organ donation as well as the owner of an independent business that's steadily expanding as a result of her determination.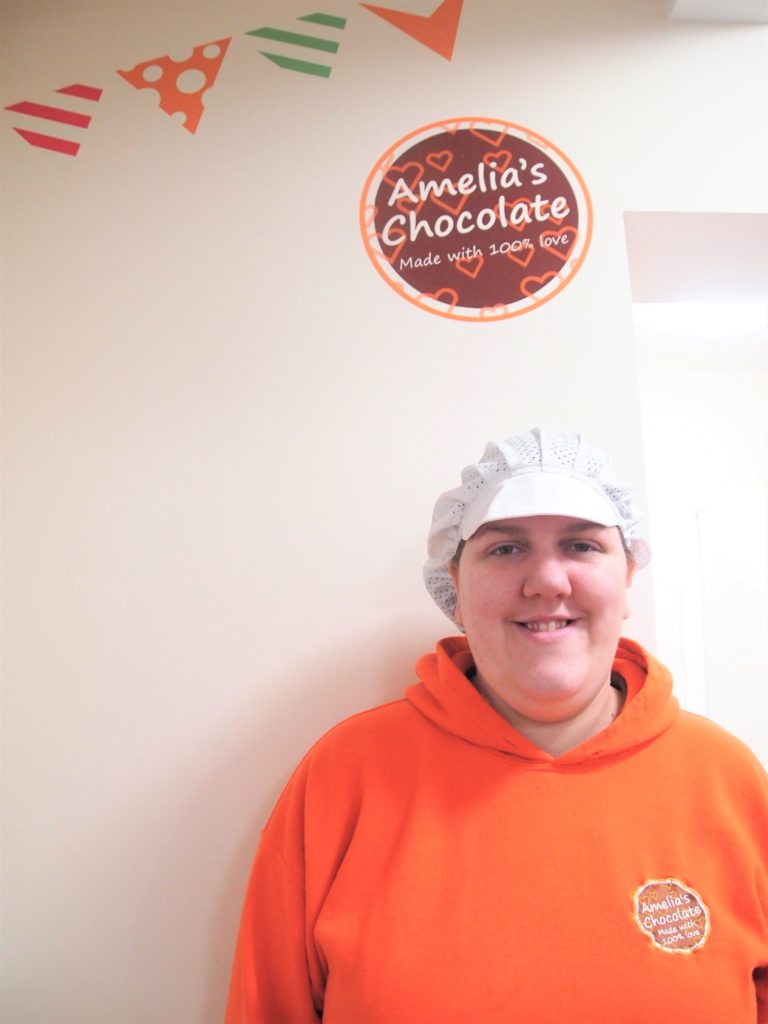 The challenge:
Growing a business – what do I need to do?
"I wanted help to get to the next stage. I didn't know how to progress".
Amelia initially set up her confectionery business – making and selling luxury chocolate – from home in 2011 and opened her first shop in 2013.
After five years of trading, she wanted to expand and move to larger premises, but she wasn't sure what steps she needed to take to get to that point.
"So, I went to the workshops and realised this is what I need to get me to the next level", says Amelia.
Like many entrepreneurs, Amelia doesn't have any formal training in running a business. She therefore found it difficult to make all the decisions without having anybody to turn to and talk things through with, especially in terms of finance.
She knew what she wanted to achieve, but getting there was her biggest challenge.
Of course, this was all while trying to juggle a never-ending to-do list and running a business on a daily basis.
The solution:
Having the confidence to carry on
"There's no aspect of the business Ros hasn't helped with".
Together, through regular – weekly, fortnightly and monthly – one-to-one coaching, training sessions and group workshops, I got to know every aspect of Amelia's business, the way she works and her goals, both short and long term.
We looked at everything as a whole – from marketing through to finance – and, most importantly, ways to give her the confidence to keep going.
Amelia wanted someone to run ideas by and ask questions to – support and friendly encouragement she wouldn't ordinarily have as an independent business owner. And that's something I was happy to help with.
We set up a solid business plan that accounted for short-term and long-term goals.
We put systems in place that allowed Amelia to run her business more smoothly and free up her time.
Accountability for her time, money and way she worked to achieve her business plan goals.
I also provided her with a solid support network that Amelia could rely on.
What's more, keeping up with the 90-day plans "really helped to keep me focused", adds Amelia. The focus she would need to try and secure financing for the bigger shop she wanted.
The results:
Small changes to big success
Fast forward two years, and Amelia's Chocolate has grown, moved premises and diversified what she offers.
With the regular support she needed and a boost in confidence, Amelia managed to secure financing for a bigger shop in the town centre in September 2018.
At the same time, she also made the leap from being a sole trader to a limited company.
She now has the additional space she always wanted to hold on-site events, which include chocolate tastings, cocktail nights, ladies' evenings, Valentine's specials and birthday parties.
Amelia says "Ros has helped with every aspect of the business" and "I wouldn't have this place if it wasn't for Ros".
What does the future hold?
Now that Amelia succeeded in opening a larger shop, she's decided to re-start coaching to focus on staff management training and keep learning how to run a business effectively and efficiently.
True to her heart, she's constantly experimenting with new chocolate creations and flavours, and she's always looking to keep ahead of the trends by including products such as chocolate for diabetics and exciting events for the local community.
"I've always wanted to do this since I was little", says Amelia, and it's been a privilege to be involved with her journey, both business and personal.