Action precedes results. Take ACTION today and get the results you want from your business
Are you a business owner who spends too much time working in your business rather than on it?
Are you so engrossed in keeping your business afloat that you find you have no time left over to do anything else?
Is running your own business everything you hoped it would be when you started out? Are you providing yourself and your loved ones with the better life that you once dreamed of? Or has your wage become your last priority as you find yourself struggling to simply pay the bills?
Running your own business is often a challenging, unpredictable endeavour, and many business owners take on this challenge without fully understanding how to turn their organisation into something that truly works without their constant oversight and intervention.
If you're a business owner who finds yourself working for your business more than your business works for you, I will work with you to change things for the better and for your benefit. Let's begin with a FREE business health check to understand more about your business needs and provide it with the tools for success…
My #1 focus is helping my clients get the lives they want from being in business.
Being in business should give you more life but unfortunately, for many business owners, this just isn't the case. My aim is to ensure that my local business community fosters growth within the economy for the benefit of everyone, while providing my clients with the lifestyles that their hard work deserves.
This is my contribution to UK abundance through business re-education!
Business Growth Events
Upcoming Events by William Roig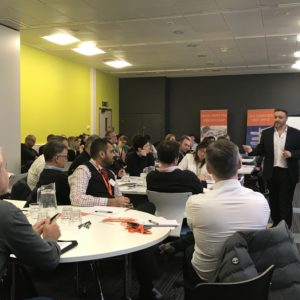 90-Day Business Planning Workshop
GrowthCLUB – 90 Day Business Planning Workshop
For Business Owners Want to know how successful business owners spend their most productive time? Only 2% of business owners have a written plan.. and even fewer stick to it.. Get control, get ready and GROW YOUR BUSINESS. Most business owners we speak to have a great vision of what they want out of their…
View the full business events calendar
Eric Schmidt
"Everyone needs a Coach"
No wonder coaching is still one of the fastest growing industries in 2017. No one would deny that Google's a successful company. If Eric Schmidt, Google's CEO, says everyone needs a coach, what might you accomplish with your own coach?