Why join?

Earn tens of thousands of pounds from referral fees.


Guaranteed results for your clients. 


Transform your customer loyalty.
You'll be joining a community of business owners who are committed to learning, growing and making a difference. Your network has the opportunity to benefit from coaching and you'll be rewarded for your referrals.
ActionCOACH delivers its proven business development programmes to tens of thousands of business owners every month. With more than 1,000 offices in 80 countries, ActionCOACH is the world's number 1 business coaching firm.
Register now to become a partner and learn how your clients can benefit from a gifted coaching session.
Referral programme structure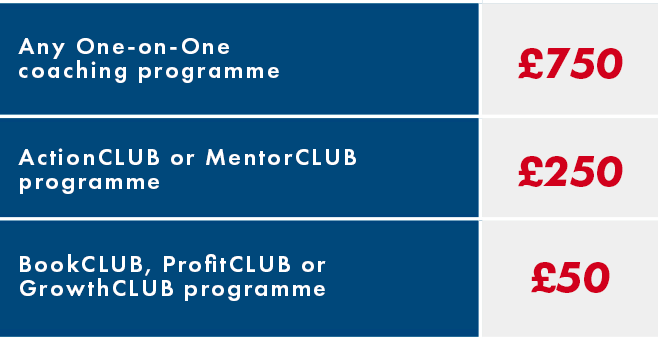 If your clients upgrade to a higher rewarding programme, we will pay you the additional amount e.g. £250 for a referral into ActionCLUB and then a further £750 when they upgrade to a One-on-One programme.

7 Reasons To Work With ActionCOACH

  More profits, guaranteed (ask us about the Ts and Cs)


  A clear vision 


  A clear road map of how to get there


  3,500 business growth strategies & tactics


  A team you can rely on


  More time for you to enjoy life


  Access to the brains of 1,000 business growth specialists
WORLD'S No. 1 BUSINESS COACHING TEAM
What our clients say 
In September 2021, 997 clients completed our client satisfaction survey. This was conducted by an independent research agency, WorkBuzz. Here is a summary of their feedback.
Net promoter score
Client Satisfaction Survey Results – 2021
of clients said they would recommend ActionCOACH to a friend or a business associate.
of clients agree that ActionCOACH has a powerful suite of business solutions.
of clients said
ActionCOACH is worth
the investment.
Over 90% of new businesses fail in the first 10 years,
but not with ActionCOACH
Most business owners invest years learning their business's profession or trade,
but they don't invest years learning the intricacies of the business of business.
Start minimising the risk of business failure and earn a reward for every successful
client that joins a life-changing ActionCOACH programme.
ActionCOACH UK needs the contact information you provide to us to contact you about our products and services. You may unsubscribe from these communications at any time. For information on how to unsubscribe, as well as our privacy practices and commitment to protecting your privacy, please review our Privacy Policy.