Accountancy Advantage are based in north London and run by Shahbaz Husain and his sister Oruj Defoite. They set the business up in 2010 after successful careers in large corporations with a desire 'to do something special for smaller businesses'.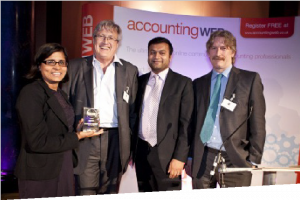 Background
Accountancy Advantage's experience meant they could help businesses with strategic advice and not just do the accounts once a year. However, as most start-up businesses find, they struggled to gain recognition in a competitive market place. As Shahbaz said "It's a trust based business and we were an unknown. So getting clients to switch to us was very hard."
Meeting an Action Coach
As part of Shahbaz's marketing plan he built relationships with strategic partners who could be a source of referrals. While doing this he met a business coach from ActionCOACH. They realised they could help each other and decided to run some joint seminars for business owners. They worked together on developing useful seminars for owner managed businesses and delivered the first one in 2011.
It was over this period that Shahbaz got to know his coach and realised she had some fantastic business knowledge. As he said "My respect for her grew, especially after the first seminar. She answered all the questions from attendees and clearly demonstrated she had the real experience they needed."
After they had done a few seminars together Shahbaz realised that his ActionCOACH could also help him. So they began one-on-one coaching and meet every week to discuss Accountancy Advantage, set goals and create action plans. The first area that they worked on was setting a clear vision for the business. Although Shahbaz had a business plan he "hadn't read it since it was written". So they revisited the plan and made sure everything else flowed from this.
First improvements
One key result of refocusing on the vision for Accountancy Advantage was supporting their desire to be "a force for good." This meant that they offered their services to selected charities and social organisations at cost. This has given Shahbaz and his sister a great deal of satisfaction. As he said "It's no longer just about the slog of the job. I'm enjoying it more."
In order to really drive the business forwards Shahbaz knew they needed to focus on the sales process. A major issue was their lack of history or reputation amongst the business community. This resulted in the sales cycle taking at least nine months. So they worked on developing a process that garnered trust in a faster way with the objective of reducing this cycle to two months.