David Haimes has a 'just go for it' attitude when it comes to life and his positive approach means that his ActionCOACH business is improving lives after just a few months of launching.
"I've held several CEO positions within the restaurant and hospitality industry in London that had morphed into consultancy roles. Over time, the consultancy grew but I was travelling three hours a day from my home in Henley-on-Thames. I wanted something that would keep me closer to home while broadening my client base." David Haimes
"I looked at a few franchise opportunities in business support services but ActionCOACH was by far the most comprehensive of them all and offered the best support. During my due diligence, I was impressed by the support levels given to franchise owners. In fact, ActionCOACH's whole culture is supportive, with franchise owners helping each other as well as being able to get assistance from the UK support team."
Getting started
"I was really keen to get started, so I booked on to the initial five-day training just three days before it was due to start at the end of September. All the training sessions and content were excellent but the sales and marketing elements were most useful for me. In my previous roles, I'd always won clients through recommendations so learning the tools for direct marketing and selling on a one-to-one basis was essential.
"I launched the business in October 2016. I decided to rent office space from day one as I wanted to coach clients at my office or via online conferencing and keep my work life separate from my home life. I implemented a number of the marketing strategies suggested during training including ActionCOACH's exclusive client generation centre, social media marketing support, and business networking opportunities.
"All this paid off when I got my first client on the back of an event organized by Business Network Inernational, the networking organization. Networking in general has proven to be my most profitable lead generation activity so far. The sales process moves much faster because you can build relationships faster. People buy from people they know and trust."
Going over and above
"I'm six months into my new business and I've achieved a big target for client income. I have eight one-to-one clients and nine group coaching clients. My focus is on making my clients successful because, after all, it is life-changing for them and both the UK and global support team help to make that happen. I recently took one client to Las Vegas for Brad Sugars' strategy course which has really set them up for significantly faster growth. I encourage my clients to use the ActionCOACH events to fast-track their learning from listening to world-renowned guest speakers to something as simple as a free webinar or a book that sparks an idea or crystalises a thought.
"The first company I worked with found their business could be greatly improved with a more effective team. My coaching enabled them to profile their employees, retrain some key disciplines and recruit to fill any gaps in the team. With a great team in place, they rebuilt their sales process, trained the team and gave the business owner the confidence to test and measure sales activities. They've raised their game, upped their goals and their motivation is at an all-time high. Their success is also my success as they've recommended me to other local businesses."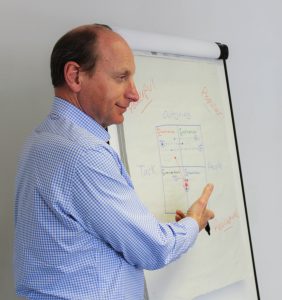 A fulfilling experience
"My ActionCOACH business gives me a fulfilling experience as well as good earnings.  My personal development was always going to be substantial with a company like ActionCOACH but I also get more family time too. I have four children although only one is still living at home with me and my wife, Annie. She owns an interior design company and attends many of the ActionCOACH events with me.
"It's been hugely rewarding seeing my clients improve their businesses. Most business owners' lives are intricately connected to the welfare of their company – if you improve their business, you improve their lives and those of their teams.
"I also have big plans for the future. In six more months from now, I'd like to have 14 one-to-one clients (an average client invests £1,500 a month) and grow my group coaching client numbers as well. I'd like to be seen as the go-to guy for business improvement in my town. The more improvements I can make to businesses in my local area, the greater the contribution I can make to the local economy. My plan is to run the one-to-one fortnightly coaching sessions whilst my team manage the Luv4 Marketing seminars, PlanningCLUB and the Engage & Grow programme. That way, I'll be able to service different types of clients and offer multiple specialist services to all my clients.
"I find the more I learn, the better I get and the more value I add to my clients. The number of learning opportunities are understated before you join ActionCOACH. It's only when you experience how much is available to franchise owners that the quality of the franchise support really dawns on you – at least three weekly webinars, regular MasterCLASSES, annual Business Excellence Forum and a host of other things.
"If you're spending good money on buying a franchise then all I can say is, you get your money's worth with ActionCOACH. It's all there for you but, at the end of the day, it's what you make of it that really counts."
Next steps
If you would like to find a fulfilling franchise like David Haimes and you:
get a buzz from helping others succeed
love learning and developing yourself
have enjoyed success in your career or sport…
Find out more by watching the overview video here