Businesses buzzing after an extraordinary BizX 2022 event
At the end of March 2022, BizX brought together some of the world's top business leaders. From world-renowned property experts to Wall Street Journal bestselling authors, the annual forum was an unmissable and unforgettable experience for a captivated audience of 2,000 UK business owners. In exciting news, BizX has already secured the Queen of Shops, Mary Portas, as one of the world-class speakers for next year's event BizX 2023. Lord Coe will deliver the opening address at ACC Liverpool.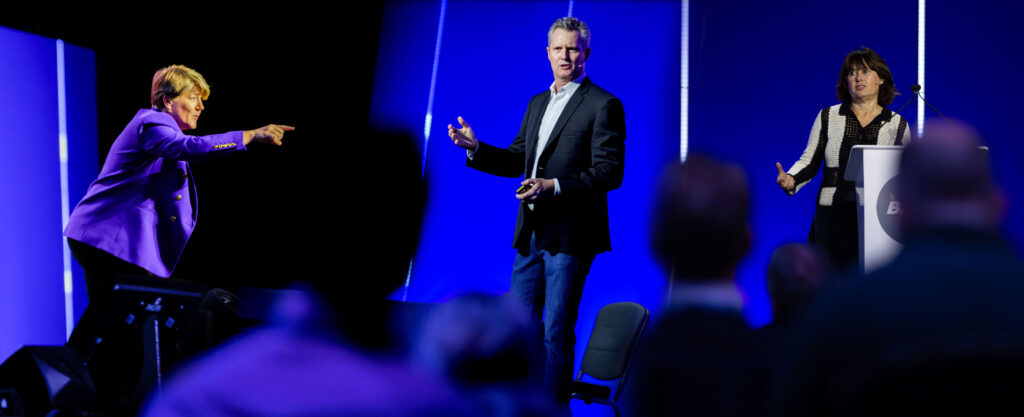 Every year, BizX brings together a like-minded community of entrepreneurs to share ideas, build relationships and learn from some phenomenal success stories. This year's event, brilliantly hosted by Clare Balding, was held at the International Exhibition & Conference Centre in Farnborough. It brought together 16 global thought leaders, including former FBI hostage negotiator and author of Amazon's No.1 bestseller in business negotiation, Chris Voss, a global authority on trust, leadership and Culture, Stephen M. R. Covey, and the world's number 1 business coach Brad Sugars, to educate and inspire business owners from the UK and Europe.
Learning from and celebrating the best
The day began with The Sunday Times' best-selling author Richard McCann's inspirational story of overcoming adversity, and how you can too by adjusting your mindset. Richard shared his journey of how he became a world-renowned motivational speaker, prompted by huge personal tragedy, and how his children have even started to learn the art of public speaking.

Bestselling author and expert on persuasive tech and human behaviour, Nathalie Nahali was next. Nathalie detailed how trust and authenticity is more important than ever in business. She shared how major brands such as Ben and Jerry's have created trust in their audience.

Other speakers on the day included Dr Tony Alessandra, who spoke on how to get the best results with the people inside and out of your business. Tony's analysis highlighted how listening to what people say and adjusting to their personality style will unlock potential.

Dr Tony Alessandra was followed by co-author of the UK edition of The Wealth Coach, Kevin Whelan, who shared his methods on how to become independently wealthy of your business.

Renowned property expert, businesswoman and TV presenter Sarah Beeny rounded off the speakers on day one by describing her unique entrepreneurial journey. Throughout, Sarah was joined on stage by TV royalty, Clare Balding for an interactive Q&A, so those in attendance and watching the live online stream could have their burning questions answered by Sarah.
The events of day one ended with a fantastic speed networking event at which the thousands of entrepreneurs at the conference could develop new connections.

An unforgettable evening
The BizX Awards returned with a fanfare, celebrating the amazing success stories of business owners and their teams across the UK and Europe. Rewfus Brode of cocktail company, Swygge won Entrepreneur of the Year, "The magnitude of winning the award hasn't sunk in yet. All my friends and family are so happy for me. We're trying to raise investment at the moment, so to add this incredible win to our pitch deck makes a massive difference. I want to say a big thank you to my amazing Action Coach, Natalie Simms. She is brilliant at opening our minds to new ideas and helping us create winning structures and systems. I know with her help we'll grow even more in the future. Bring on BizX 2023!"

A brilliant encore
The second day of the conference started in elevated spirits with the duo from The High-Performance Podcast – Jake Humphrey and leading organisational psychologist, Damian Hughes. The pair shared some of the key learnings they have collected from their podcast whilst interviewing high-performance individuals such as Jonny Wilkinson and Dame Kelly Holmes.
Jake and Damian were then joined on stage by the founder of ActionCOACH, Brad Sugars, interviewing him about his own high-performance mindset. This was not the last time we saw Brad as he later would share his expertise on the importance of implementing "raise your hand" marketing in 2022 and beyond.

Next up was The New York Times and No.1 Wall Street Journal bestselling author, Dr. Stephen M.R Covey, who shared the importance of trust in business and how his relationship with his father, renowned author of The 7 Habits of Highly Effective People, have helped shape his leadership techniques.

After both an insightful and hilarious speech on positivity by Ian 'Woody' Woodhouse, world-renowned body language expert Mark Bowden shared the importance of non-verbal communication in business. Mark demonstrated that something as simple as a hand position can completely transform how your ideas are being communicated.

The final speaker of the conference was the world-leading veterinary surgeon and bestselling author, the 'Supervet' Noel Fitzpatrick, who shared how to get results in the highest-pressure environments. After arriving straight from the operating table, Noel described poignantly how having a passion for your business is not only important but paramount to the success of you and the people around you.

Paul Tolley is the Senior Partner at ActionCOACH Liverpool where BizX will land in 2023, "This year's event provided fantastic momentum for all the delegates. This was my first BizX having joined ActionCOACH in 2021 and I thought the quality of speakers was phenomenal. I'm so excited for my clients and the local business community to access this inspirational event on our doorstep next year."
If you're interested to find out more about the 2023 speaker line-up visit: https://thebizx.co.uk/