Marketing is an investment
Do you believe your marketing is an investment or an expense? If you were going to invest your hard-earned cash into shares on the stock market, an ISA or a buy-let-property, chances are you'd what financial return you're likely to earn on your investment.
And to get the most from your marketing spend, you'll want to take the same approach to grow your business. For many small businesses, making the time to do this is challenging. When you're running the business, you're being pulled in many different directions.
Yes, pressing issues are an urgent tug on your time and energy. Yet if you're going to do ANY marketing in your business then NOTHING is more important than making sure if you know precisely which of your marketing is an investment – because it makes more money than it costs you – and which is just an expense.
Why is this so important? At least half of all the money spent on marketing fails to generate a return. And most small businesses don't measure which marketing activities create a profit for their business and which costs them.  More importantly, armed with the information about exactly which marketing activities work financially for your business, you'll be able to profitably grow your business.
Six steps to measuring your marketing ROI
Calculating which of your marketing spend gives you a return on your investment (ROI) is simple when you follow these steps.
     1. Conduct a quick marketing audit
Make a list of all of the different ways you market your business. Examples include your web site, networking events, Facebook advertising, referral partners, telemarketing and leaflet drops to name just a few.
     2. Obtain or create a list of the leads you've generated
 To get meaningful results, go back over the last six months, ideally the last 12 months. Then split your list into:
New leads for customers that you've not worked with before
Opportunities from existing customers
For this exercise, you're going to focus solely on new leads.
    3. Identify the marketing activity that generated each new leads
Referring back to your quick marketing audit in step 1, how exactly did your company generate each lead? When you go through this step, you'll likely uncover other lead sources that weren't on your list.  Then total up the number of leads from each marketing activity.  For example:

    4. Calculate your cost per lead
Identify your total spend on each activity. Then divide your total marketing spend for each activity by the number of leads that marketing activity generated.

  5. Calculate your cost to acquire a new customer for each marketing activity
Identify how many new customers you gained from each marketing activity. Then divide your total spend on that market activity by the number of leads that activity generated. Here you are calculating what is known as your customer acquisition cost.

6. Calculate your marketing ROI
To calculate the gross profit on your marketing subtract the total revenue from the marketing spend, giving you the gross profit on your marketing.
The example below also shows the average spend per new customer and expresses the marketing ROI as a percentage of revenue versus spend: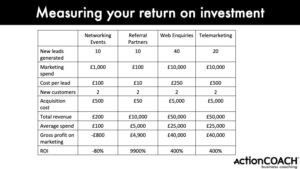 When you understand which of your marketing gives you a return on investment and which doesn't, you'll be able to make effective marketing decisions. Choices about which of your marketing activities to review and revise, ramp-up or stop altogether. It might make you think twice about starting new forms of marketing in the short-term, especially if you discover you could ramp up existing marketing activities that already generate you a financial return.
When you continually test and measure your marketing in this way, you'll see your marketing is an investment, and you'll see an increase in the revenue and profitability of your business.
If you'd like to attend one of our online business improvement events, visit our events page or click here. 
EVENTS PAGE