Is your business a Cash Generating Asset?
Very few business owners make a substantial income from running an SME. Unless you are working around the clock in your business, it can be hard to achieve the financial return you desire.  Most businesses also cannot be sold at a meaningful valuation, which would allow you the freedom, time and finances to live the life you want.
I work with business owners to:
Grow your business
Build a Senior Management Team to run it on your behalf
Create a business that works without you
This solution gives you the work-life balance you deserve, gain greater satisfaction from your business and improves the profitability and likelihood of successfully selling your business, if you choose.
Ultimately, I enable you to live the life you want.
I coach business owners who have a growth mentality, recognise the need to invest in their business, grow the management team, delegate responsibility and learn what it takes to be a successful business owner.
You are likely to have in excess of 10 employees already, turnover £1m plus and want to grow at a rate of 30%+ year on year.
Contact me at martinpurvis@actioncoach.com or on 01727 225 200 to schedule a free evaluation of your business.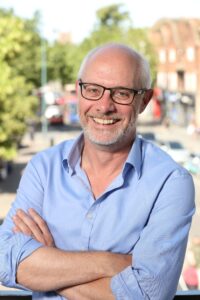 Business Growth, Leadership & Team Development Expert
My passion is to work with talented business owners who are committed to creating economic growth, employment, wealth and happiness through their business, but appreciate that an outside perspective is necessary to achieve those goals. I use the tried-and-tested ActionCOACH systems, plus my 30 years of business expertise to get real commercial results.
As your business coach and mentor I will work with you to create a profitable enterprise that works without you, where work is a choice and you have options to further grow your business or have an exit strategy.
Want to learn more?
Our business coaching firm is based in St Albans and we're always available to help established business owners. You can drop me an email, contact me via LinkedIn or call me on 01727 225 200 – and I'm happy to schedule a no-obligation assessment of your business needs.
Eric Schmidt
"Everyone needs a Coach"
If Eric Schmidt, former CEO of Google's, says everyone needs a coach, what might you accomplish with your own coach?