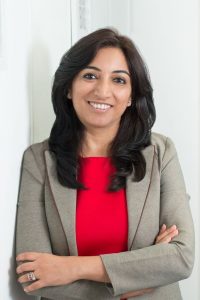 Guaranteed return on your business coaching investment
I am a business coach based in London and I work with talented businesses, helping them to reach their true potential. Having led multi-million dollar business units during my time in leadership roles with GE, Microsoft and GoDaddy, I bring 18 years of experience to my clients.
ActionCOACH is the only business growth company we know, who will guarantee a return on investment for our clients.
I won the London Business Coach award for best client results in 2017 and 2018. I also featured in The Daily Mail. My success story was also shared in BFA in 2017 here.
My clients have on average doubled their turnover during their business coaching and have achieved a greater quality of life and more family time due to systemising tasks and processes. You can hear about the success story of one of my clients here.
I am passionate about "the business of business" and coach businesses to run efficiently and grow profitably.
I provide business coaching to business leaders, executives, London business owners and entrepreneurs in the following areas:
* Creating clarity on what the business looks like in the short and long term.
* Building a predictable sales and marketing engine.
* Developing systems & processes to drive efficiency and reliability.
* Nurturing a stronger and more aligned team to run the business.
* Driving profitability with over 250 proven strategies.
* ..and Celebrating success together!!
There is clearly no overnight success formula here but our experience proves that when a business owner partners with the ActionCOACH system and team, their sustained efforts in the right direction produce massive results.
Contact me here to start your journey towards a more successful business.

Would recommend to anyone who wants to take their business to the next level!
"Mitali is a fantastic business coach. I never imagined I could get so much from working with a coach. Within a very short period of working with her, we implemented significant changes in our business and achieved amazing results. She cares about your personal and business goals and isn't afraid to tell you what needs to be done to take your business forward. She has held us to account and always brings fresh ideas to our meetings. Her enthusiasm is infectious and I have no hesitation in recommending her to anyone who wants to take their business to the next level. She is also one of the most genuine people I've had the pleasure of working with. "

Lorraine Windsor - Owner, The Social Matrix Ltd

An investment that would come back to you in wonderful ways
"Mitali is an inspiring and highly motivated coach, who genuinely seeks to find and develop people potential. I've really enjoyed working with her and would strongly recommend making an investment in her time, it will come back to you in wonderful ways."

Tom Soper - Director, KTB architecture

A road map to grow our business
"Soon after we started the business in 2019, we decided to start working with Mitali. She has helped us to formulate a clear business plan, shape our company processes and identify key strategies to develop our business. In addition to this, her emphasis on aligning personal goals with our business goals has given extra meaning to the work and that's why we love working with her!"

Ben McKernan - Founder, Loop Studio

A specialist consultant who quickly establishes a strong level of trust with your team
Quickly and confidently, Mitali understood my business and team, the issues we wanted to resolve and helped guide us step by step through the logical steps to a much more productive way of working. Pulling apart our current key processes and rebuilding from the ground up. At the end of our two-day session the team and I were left invigorated and with a real sense of achievement and purpose for the coming months.
A huge thank you to Mitali and long may our working relationship continue!"

Doug Johnson - Founder and Director, Mesh Energy

Methodical and motivating approach
Over the last few years, I have worked with a number of different Business Coaches but I have not, to date, come across one who is as thorough as Mitali.
Mitali is a great listener who has a wealth of experience which comes across in her coaching. Not only does Mitali challenge the Business owner, she also offers some real practical suggestions of how targets can be achieved. She is very methodical in her approach, and also very motivating. Mitali is a also a great presenter and speaker. I would recommend any owner of a Business to work with Mitali.

Chandra Sharma - Managing Director, Tangent Office Resources

Much clearer on our goals and financials
"Mitali has been our coach since August 2018, a little over six months since we first launched the business. From the start, she helped us to make a few key decisions that grew our business substantially, going from zero employees to 10 and increasing our year-on-year turnover by nearly 200 per cent!
Under her guidance, we're much clearer on our financial situation and our goals. Her knowledge and experience are invaluable, and her positivity is infectious. Running your own business is hard work and at times it can feel overwhelming, but having Mitali as our coach has definitely made it easier and rewarding."

Diana Kakkar - CEO, MAES London

The best decision we made for our business
"Working with Mitali for just over a year has been transformative for our business. She was able to identify right from the beginning what our strengths and weaknesses were so that we could focus on the right things. We were then able to really focus on what was important for the first time, and totally define our roles within the business and our goals for the next 3 years. Our turnover and profits have increased significantly.
Not only has Mitali been a great coach but a great friend, and always there for us as a sounding board. We have been sceptical about coaching in the past, having had a few bad experiences, but taking on Mitali proved to be the best decision we could have made for our business."

Yasmine Ziadlourad - Managing Director, Rosalind Miller Cakes
Get In Touch
Send A Message
Send me a message
Contact info
Mitali Chopra ActionCOACH London 1.14, 1st Floor, Regus,Romer House, 132 Lewisham High Street, London , SE13 6EE