Grow your business and get a life!
Using a proven business growth system that has been successfully applied within thousands of businesses results in…
✓ A greater understanding of your business operations
✓ Clear actionable plans for the growth of your business
✓ Systems that enable you to spend less time working 'in your business' and more time
'on your business',
✓ A stronger and more productive team that can run your business without you, and
✓ … an increase in your bottom line profits… Guaranteed!
My #1 focus is to help Scotland's business owners survive, thrive and achieve their potential
With a logical approach and a passion for developing individuals and businesses to reach their potential, you can expect to develop clarity and consistency taking the 'speculation' and 'chance' out of your business. You will develop manageable action plans that you can implement – driving growth and profitability – meaning your business will survive long term and deliver on the dreams and goals you had when you started.

The focused time it provides me away from my business to prioritise what matters rather than running around like a headless chicken all the time not getting anywhere!

Clare Cartwright, Acorn Support

ActionCOACH have had a great positive impact
We have had coaching with other companies in the past that have been strong at a strategic level but have not been so good at helping us on a practical level to implement changes. ActionCOACH have had a great positive impact on both strategy and implementation.

Bruce Mitchell, IT Dev
Business Growth Events
Upcoming Events by Ryan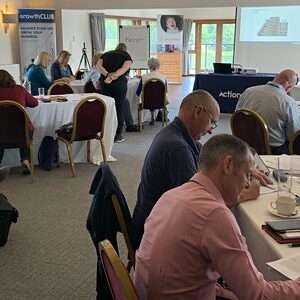 90-Day Business Planning Workshop growth-club growthclub
GrowthCLUB – 90 day planning
What is GrowthCLUB 90 Day Planning? Only 2% of business owners have a written plan … and even fewer stick to it … Create the Roadmap to Your Success… In reality, failure to plan is planning to fail and for many business owners, who are caught up in the day to day of their business, finding…
View the full business events calendar
What ActionCOACH clients say
A framework, system and toolset proven to give your business a boost
Across the UK, hundreds of ActionCOACH clients have provided video testimonials explaining the profound effect that our system has had on their businesses (and themselves). These are real people, getting real results from the huge range of systems, strategies, tips, tools and checklists that ActionCOACH can use to boost your business growth.