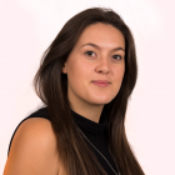 Laura Thorburn
Marketing and Events Manager
Why do you love working for ActionCOACH?
Everyone has the same mindset – we are all making a positive difference to the business landscape. The amount of personal development and learning opportunities ActionCOACH offer is incredible and the whole community including employees and franchise owners, are very supportive and a lot of fun.
Tell us something about yourself…
My title is 'Lady,' that's right…I am Lady Laura Thorburn!
Favourite holiday destination…
I love to travel down to Cornwall with my family; this also means that I can take my dog Archie. But my favourite holiday was spending a month in Indonesia!
What's your favourite quote?
'If you're early, you're on time. If you're on time, you're late. If you're late, you're a disappointment.' – James Vincent, Managing Director.