Introducing Steve Saunders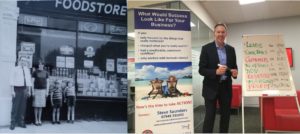 Steve is a highly motivated, enthusiastic and results orientated professional, with a proven track record, working with hundreds of local business owners to improve their businesses and personal lives.
As a fellow business owner, he understand the courage, determination, skill, self-belief and sheer hard work required to establish and grow a profitable company. Steve is focused on guiding you to create the business of your dreams and have some fun along the way!
A committed family man, Steve practices what he preaches and carefully manages his work life balance, so he can spend quality time with his wife and three lively daughters.

Are you working longer hours than you want to or ever thought you would be? 
Do you want to regain the vision and dream that led you to starting your own business in the first place? 
What would you do to regain control of your life and spend more time with family and friends? 
As your coach, we will be working with you in four key areas. The emphasis on each area depends on your needs, the type of business you have, and your goals. The key areas are:
1 / Sales and Marketing
2 / Team Building and Recruitment
3 / Systems and Business Development
4 / Customer Service.
Our goal is to guide business owners, such as yourself, to spend less time working IN your business and more time working ON your business.
We are always here to work together to redefine your dreams and vision, and then we will put into place the necessary systems, strategies, and tactics that will allow you to turn your business into the business you always wanted.
We define a successful business as: a commercial, profitable enterprise that works without you.
There is no time like the present to get started on your dreams and goals. If you are ready to move your business to the next level, contact us today for a FREE, NO OBLIGATION business coaching session. Find out how you can change the way you do business to achieve the results you deserve!
The first step to getting your business going is to take the "Business Health Check." How Healthy is Your Business?
Get In Touch
Send A Message
Send me a message
Contact info
Steve Saunders 25 Elms Close Little Wymondley, SG4 7HP
Alternatively, click the button below to schedule a meeting: