Business Growth & Development Coach - Employee Engagement Specialist - Mentor - Facilitator
As an Award Winning Business Coach with 15 years experience working in the SME environment, I know only too well the people challenges and how hard it is to get the buy-in from teams to bring about high standards of performance. Businesses of all sizes face this same challenge which is why I focus on delivering business growth through the people who can effect positive change, starting with the Business Owners and Directors.
As a Business Coach and Employee Engagement strategist I have the tools and knowledge to help Owners and Directors to become true leaders who can attract, inspire and retain the best talent in their industry to deliver their products and services.
---
View my brand new programme, to help you achieve more and so your business flies high.
---
"...one of the best things I have done in my professional career."
We wanted to learn more about management and leadership to become better leaders of our business, and Stuart has delivered an excellent coaching program, giving us much needed advice and is always a pleasure to work with he has fundamentally changed the way I think and run the business at its core, and highlighted mistakes I have made in the past to constructively build on the future. I can safely say working with Stuart has been one of the best things I have done in my professional career.

James Whitfield - FIVE Create

"I highly recommend Stuart to any business owner."
We work with Stuart through the ActionCLUB program. The results he has helped us achieve in just a short space of time have had a measurable impact on our bottom line, productivity and systems. I highly recommend Stuart to any business owner looking to make their business more profitable, efficient, and ultimately sellable.

Mike Davis - Brilliant Social Media

"I am now selling a business for £300,000."
"I wanted to let you know how beneficial I have found the coaching. I found the advice and support invaluable in making better sense of my business. The ActionCOACH tools you provided and the relevant documentation such as marketing materials have saved me lots of time.
I am now selling a business which I purchased 6 years ago for £15,000 for £300,000.

Sara Mogford - Managing Director, e-clinic Limited

"...made a real, tangible and financial difference."
Stuart we have implemented a number of strategies that have made a real, tangible and financial difference to our business. I would not hesitate to recommend Stuart to anyone wanting to grow their business and further their own personal development.

Caroline Wherrit – Rework Office Furniture
Business Growth Events
Upcoming Events by Stuart Johnson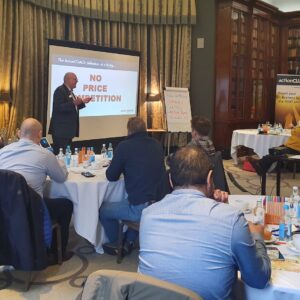 90-Day Business Planning Workshop
90 Day Planning in 2022
There's never been a more vital time to focus on your business and how you can grow it, in order to gain the time and energy to spend on what's most important to you – whether it's relationships, health or something else you feel truly passionate about. 2020 and 2021 have been years that none…
View the full business events calendar
Brad Sugars explains...
Why You Need a Business Coach
A Business Coach is better than a consultant for many reasons. With years of successful experience that can provide valuable insight, your Business Coach will help you develop long-term and short term goals and strategies, as well as improve your business in areas that you might have overlooked. You may be able to survive in business without the help of a Coach, but it's almost impossible to thrive…