Steve Saunders has been an ActionCOACH franchise partner since June 2015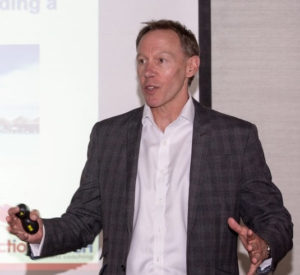 Who has had the greatest influence on your life and why?
I was born above my parent's shop and my grandparent's newsagents was next door, so I come from a long line of entrepreneurs.  They have been greatest influence on my life as they have always been there when I needed them for support, comfort and encouragement.  I also need to mention my wife who always give me her backing.
What is the most important characteristic an Action coach must have and why?
I believe that you must have a "growth mindset" and be willing to help others achieve their goals. I have recently learnt a new word, the "c word"; Congruence – don't ask others to do what you are not prepared to do for yourself, so make sure you are always learning & improving.
What have you done/do you do to contribute to our shared vision of World Abundance through Business Re-Education?
I am always willing to offer hints and tips to everyone I meet, sometimes I'm sure I give too much away!  This may be when meeting a potential new One 2 One client or an initial contact at a networking event.  On a more tangible basis, I run monthly events: GrowthCLUB & 6 Steps Seminar and offer a follow up session to all attendees regardless of business size or longevity.  Happy to be abundant as you never know who people know.
Of the 14 points of Culture which one most resonates with you and why?
Number 10 – FUN.  I wasn't convinced about this one at first as in my head business was a serious business!  However, I now believe that FUN means being enthusiastic about what you are doing and enjoying it.  I can't think of doing anything else and believe that I've found my vocation, so I'm definitely having FUN!
What's been your toughest challenge in ActionCOACH and how did you break through it?
Building a client base, with high quality businesses remains my biggest challenge.  I intend to break through with persistence and perseverance and of course with the super support from the ActionCOACH Team.
What's been your proudest/most fulfilling moment in ActionCOACH?
Setting a "personal best" of 26 business people in the room at my recent GrowthCLUB in June.  I can remember vividly having just 4 in my first one, so this gives me a lot of confidence that my business is moving in the right direction.
What's your next big goal?
To become known as the "go to business coach" in my local area.
If you'd like like to find out more about the ActionCOACH franchise and you:
Get a buzz from helping others succeed
Love learning and developing yourself
Have enjoyed success in your career or sport…
Then find out more by watching the 6-minute overview video here