Andrew Kurishy has been an ActionCOACH Franchise Partner since 2008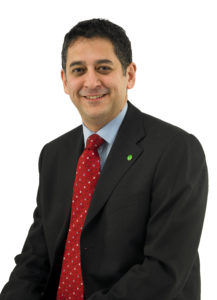 Who has had the greatest influence on your business and why?
Without doubt this would be Andrew Carnegie the Scottish (although the Americans claimed him) Industrialist. At the age of 24 he made a promise to himself. That promise was to spend the first half of his life making money and the second half giving it all away. At the time of his death in 1919 he had amassed and given away 400 million dollars.
He is the best example I have ever come across of somebody having absolute clarity on their "purpose" and living it. Truly remarkable man whose life story has changed the way I view our business.
What is the most important characteristic an Action coach must have and why?
There are lots of contenders for this one but the one I would choose is resilience / mental stamina. Physical stamina is important, but it tends to be our heads that get screwed up first!
What we do is not easy. If it was everybody would do it, so having the ability to self-manage our own thoughts / emotions and stay positive when all you feel like doing is screaming or crying, is a critical characteristic to be successful over a long period of time.
What have you done/do you do to contribute to our shared vision of World Abundance through Business Re-Education?
True World Abundance can only happen when we help those in society who are less fortunate than ourselves.
Over the years we have done various things to support charities that are involved in either saving or changing the lives of sick children. I have come to the realisation that helping sick kids is part of my core being and what gets me out of bed each day.
Over the last year through a combination of things we were instrumental in raising / donating a significant amount of money to EACH (East Anglia Children's Hospice) and in 2019 we plan to do the same for "Children with Cancer".
Of the 14 points of Culture which one most resonates with you and why?
It's difficult to choose just one as I see all 14 points to be intrinsically linked. However, the question is asking for one, so I would say GRATITUDE.
In the world we live in its so easy to lose sight of how fortunate we are to be living in one of the richest countries in the world at probably the best time (so far) in human history.
I am constantly reminded that my worst days are still considerably better than billions of other people's best days. It is a coincidence that I am writing this on the day our American friends celebrate Thanksgiving, but maybe every day should be Thanksgiving Day.
What's been your toughest challenge in ActionCOACH and how did you break through it?
For me the toughest challenge was constantly comparing myself and my results to other far more successful coaches and asking myself some very unhelpful and at times dangerous questions.
My breakthrough was more a serious of "mini" BFO's opposed to one big breakthrough and they came about through diving deep in to better looking after myself in the three key areas of physical, mental and spiritual wellbeing. It also required me to confront my ego and commit to the daily practise of keeping it under control. As some of you can attest to – it's still a work in progress!
What's been your proudest/most fulfilling moment in ActionCOACH?
I have been very fortunate to have built up a collection of Action men and they all sit proudly in my office. Whilst I am very grateful for that recognition, they sit a comfortable second place to all the tremendous results and awards our clients have achieved. It would seem wrong to single out just one, so I will say it's always a proud (and humbling) moment when clients win.
What's your next big goal?
The big goal remains to raise and / or donate at least £1,000,000 to charities that are specifically engaged in the work to save the lives of sick children or at least have a significant impact in improving their quality of life.
If you'd like to find out more about the ActionCOACH franchise and you're the kind of person who;
loves learning and developing yourself;
has enjoyed success in your career or sport; and
is willing to invest if they see substantial returns will be made…
Then find out more by watching the overview video here