Protecting your business from being too dependent on suppliers
Most businesses will rely on, and depend upon, external suppliers, over which we have little or no influence. A well-organised business will take a view on external suppliers and, if any pose a potential threat, take action to minimise the risk. However, this can be a hard position to reach; ask any business owner about a time when one of their external suppliers suddenly increased their prices, went bust overnight, didn't meet a deadline or produced a poor-quality service, and most could name an example. Last month I wrote an article on the Switzerland structure, and how you should build your business not to rely on any company or individual too greatly; this is particularly the case in terms of external suppliers. In this blog I will advise how to avoid becoming too dependent upon your suppliers, and how to cope if you do lose them.
The vital role of external suppliers
The difference between losing a key member of your team and an external supplier is that often the immediate effects of the latter can be more catastrophic. As a business owner you have a tangible amount of control in the departures of individuals under your supervision, and often can do some damage control before they leave: they have to give you notice and you can work with them to use this period to make the transition up to and after their departure as smooth as possible. The loss of a supplier can often be more dramatic, unforeseen and immediate.
It is also important to remember that the term external supplier does not only apply to the supply of key components, but also to the people involved in delivering your product or service.  Take my example of Susan, who owns a corporate law firm. Within her practice, Susan has five permanent solicitors and three freelance barristers to whom she often refers  her cases. The obvious external suppliers within her firm are the barristers that she has formed relationships with, however she has several other external suppliers at play. Susan holds all her client meetings at her office, but one day her cleaners go bust overnight, and Susan struggles to find a replacement service for a few weeks. Of course, the loss of her three barristers would be dramatically more catastrophic for her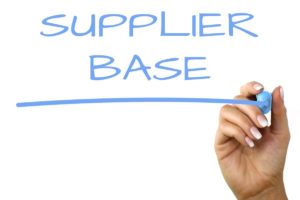 business, however the loss of her cleaning contractors is also bad for business. It's a massive inconvenience, with all client meetings having to be held in expensive rented private meeting rooms. My fictional example of Susan helps to illustrate how all-encompassing the term 'external supplier' is, and how you may rely on more external suppliers than immediately spring to mind.
My question to you…
With this in mind, I propose that you consider the question: 'How would you cope with the loss of your most important supplier?' Furthermore, try to think if there are any secondary or minor suppliers without which your business would suffer? This is an important question within my tool Value Builder, which gives business owners the insights they need to meet their business and personal goals; the question is one of a series of insights that helps us assess the strengths, weaknesses and value of your business.
Famous examples
Smaller firms are generally the most susceptible to being held to ransom by their suppliers, but there are some embarrassing examples of multinational companies falling into similar traps.
Rio 2016 Olympics – This example will help you think how wide the definition of a supplier can be, as the organisers (who were already stretched to finish the Olympics on time) were let down by Customs officials. Obviously, the international event would have to go through various stages of border checks in various different areas. Unfortunately for them, Brazilian Customs struggled to maintain a fast pace, jeopardising the whole event.
These infamous examples of supply failure remind me of the comedy sketch in the programme Come Fly With Me, where coffee-stall worker Precious is forced to shut her coffee stand every episode due to the absence of one important product (e.g. coffee cups).
Whilst this indicates the funny side of the issue of supply failure, when it happens in the real business world, the effects can be catastrophic.
How to avoid relying on one supplier too heavily
Build relationships with numerous businesses – When a supplier becomes an important part of your business, quite often you will form a personal relationship with them as well. Whilst this can be advantageous to your business in many senses, it can sometimes cloud your judgement. Don't be afraid to shop around a bit, or at least form connections with similar suppliers.
Use two suppliers, if possible – Often this is not possible, especially if you are a smaller business, but if you can this is a valuable technique. For example, Royal Mail has various contracts with external couriers.
Always have a formal contract with a supplier – You wouldn't hire someone without them signing a contract with the formal terms of their employment and notice agreements. Applying the same discipline with key external suppliers could mitigate some vulnerability.
I have helped many businesses avoid potential disaster by breaking their dependency on one supplier; if it's a vulnerability in your business, let's have a chat!
My clients benefit from a whole range of supporting materials to help them in all areas of their business*. 
If you'd like to know more about the business areas in which I can help you, call 01732 453 464.

Value Builder exclusive offer
Value Builder is an extraordinarily powerful tool to give business owners the insights they need to meet their business and personal goals, so I am personally committed to making it available to entrepreneurs in Kent, Sussex and Surrey, in the area indicated in the map.
Value Builder normally costs business owners £500.  However, I am delighted to offer it to selected businesses free of charge – and I am also pleased to offer the follow up 90-minute 121 consultation to go through your results at my expense.
Why?  Well, I want businesses to have the very best chance to grow and develop, delivering the results business owners and their families deserve.
Secondly, I want to see businesses thrive and recruit additional team members to further grow the business and help to boost the local economy.
The full list of towns where I can provide this service is below, but if you don't see your location, give me a call or drop me an email I will let you know if I can help you.  If I can't, I'll put you in touch with one of my colleagues who helps businesses in your area.
To apply for your FREE Value Builder report and business strategy review
Call 01732 453 464
I help business owners in the following towns:
| | | | |
| --- | --- | --- | --- |
| Brighton & Hove | Hailsham | Lingfield | Seaford |
| Bromley | Hastings | Maidstone | Sevenoaks |
| Cranbrook | Haywards Heath | Newhaven | Sittingbourne |
| Crawley | Heathfield | Orpington | Tenterden |
| Crowborough | Hildenborough | Oxted | Tonbridge |
| Dorking | Horam | Paddock Wood | Tunbridge Wells |
| Eastbourne | Horley | Redhill | Uckfield |
| East Grinstead | Horsham | Robertsbridge | Wadhurst |
| Edenbridge | Kings Hill | Rotherfield | Worthing |
| Goudhurst | Lewes | Rye | |
Don't see your location in the list? Drop me a line and I'll let you know if I can help you – or put you in touch with one who my colleagues who works with business owners in your area.
*My clients benefit from supporting material and coaching in the following business areas:
| | | |
| --- | --- | --- |
| |           Lead generation | Sales process |
| Business planning |           Time management | Finance, understanding the numbers |
| USP & POD (Unique Selling Point and Points Of Difference) |           Systems | Team / Team dynamics |
| Recruitment / DISC / personality profiling |           Leadership | Business growth |
| Strategies for profit |           Succession planning | Exit strategies |
Looking for support in one of these key business areas?
Call 01732 453 464
Or email julianweekes@actioncoach.com