"Ian, you make it so easy to grasp the concept of running a business, my business. Thank you"
Bobbie Goulding – Director: BG7 Personal Fitness and former St. Helens & Great Britain Rugby League Captain

Winner – Best Community Impact Award: European Business Excellence Awards 2018
"Working with Ian has already seen an improvement in our sales, given the team members a sharper focus and established a better structure. He has given me a belief that I will hit my stretched business targets."
Darren Fulton – Managing Director: The Liverpool Recruitment Company Ltd. 
"Ian is approachable, flexible, supportive and tailors the programme to MY business needs"
Brian Kelly – Managing Director: Greenwood Scaffolding Ltd. 
"Over the last 12 months Ian has gone above and beyond what you would expect from a business coach. He is always on hand to offer help and support. If it had not been for Ian's support, my business would not have won the Best Community Impact Award at the 2017 European Business Excellence Awards. I highly recommend Ian to anyone who is in business and who is looking to grow, bring more work in or who's looking to put valuable things in place to help organise your daily routine. Thanks for everything you've helped me with Ian and I look forward to working with you in the future"
Tony Tennant – Managing Director: Enviro 2 Save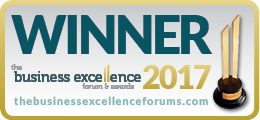 Winner – Best Community Impact Award: European Business Excellence Awards 2017 
"Ian's coaching helps us understand the bits of a business that you don't see, a bit like an iceberg, to strengthen the rigorous structure which supports a business" 
Alex Evans – Director: Corner House Design and Print Ltd. 
Private Hire Company
"Since working with Ian, he has helped me put the structure in place of how my business will look when it is finished. Ian is helping and guiding me to focus on achievable, measurable goals for my business.
In addition, he is always available with helpful advice whenever I need it. Ian is a good listener and always tries to look at issues from a different angle, ways in which I would not normally think. It has been great for me personally and for my business working with Ian and I can only see my business improving and growing whilst he is involved with me.
Thank you, Ian, for your help and advice to date."
Lee Marsh – Director: LMTravel (St. Helens)
Audio Visual Company
"In the time that we used Ian as our business coach, we managed to improve both our sales and profitability and made great progress towards systemising the business. It was felt that the input and experience that Ian has given us is invaluable. We are now ready to take our business to the next level, something that on our own may have taken years. If you are in a rut in business or just don't know what's possible Ian is your man. He's always willing to offer advice and encouragement. Ian knows first hand the struggles businesses go through. Most importantly he is down to earth and approachable whilst having a subtle knack of getting you to push yourself to new limits. 5 star service that gives great ROI."
Siobhan Rodgers – Director: Ants Antennas
Electrical Contractor
"Working with Ian helped me reset the Vision, Mission and Goals for my business. I believe that, through Ian's coaching, that these are now achievable"
Mike Pilkington – Managing Director: PowerPlus
Chiropractic Clinic
"Working with Ian has seen a positive impact on my business. My revenues increase greatly, but even better, my profit has improved by over 50% thanks to the systems, procedures, testing and measuring that I have implemented with Ian's guidance. Also, because of this improvement, we will be looking to recruit additional staff members over the next few months"
Dr Neil Farrell – Director: The Chiropractic Clinic Wigan
Construction Industry
"I would just like to thank Ian for today's seminar – I thoroughly enjoyed his Business Growth Masterclass and would highly recommend it"
David Mercer – Managing Director: Mercer Group Ltd
Asbestos Removal Company
"Ian is very knowledgeable in his field and a dedicated professional who ensures that the services he provides are conducted on time and within agreed budgets.
As a result, his attention to customer service and detail will be hard to surpass I would not hesitate recommending Ian to anyone looking for a business coach"
Ian Lea – Managing Director: LAS Asbestos Services Ltd.
Website Development
"It was great listening to Ian. He's very knowledgeable and comes up with some great ideas and strategies. I really enjoyed his '5 Ways' lead generation section"
Liam Mitchell – Managing Director: Breeze Development Ltd.
Residential Developer
"Ian and I  have worked together at all levels of management within the construction industry. Throughout that time Ian has always been a great team player along with being a superb influencer, communicator and leader to the individuals and teams he has worked with, showing a determination to achieve the desired collective results at both a personal level as well as a business level. Most of all, I would have no hesitation in recommending to any construction company to have Ian mentoring within their business"
Iain Fleming – Construction Director: McCarthy & Stone (NW)
Landscape Gardener
"The first time that I have attended a live event and I would definitely recommend this event to any new business owner"
Craig Flatters – Proprietor: Flatters Garden Services
Public Service Company (CSR)
"Positive reinforcement of the need for systems and procedures was given all through Ian's workshop and he encourages broader, clearer thinking and actions, whilst being none-judgmental. Excellent Seminar"
Pamela Cunningham – Marketing Manager UK: TiksPac UK Ltd. 
IT Support
"Having recently attended one of Ian's Business Growth Masterclasses and came away with great ideas for planning my time; finding my business' niche and recruitment systems. Thank you Ian"
Tony Syddall – Owner: ADS IT Support