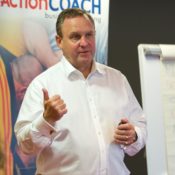 Ian Finney MBA
Principal Business Coach
Who is Ian?
Confident and Approachable: With an attitude to business and life in that to succeed in what you do, then you first need to enjoy what you do.
A Motivated, Proactive, Committed Individual: Throughout every level of the
business spectrum.
What Can You Expect: Progression quicker than you would on your own.
From providing an ego check to helping expand your network, coaching will give you
both the tools and perspective you need to go from point A to point B.
The potential to make more money.
We give you a Guaranteed Return on your Investment, or your money back!
Show me any other coaching firm that can give you that guarantee.