I have spent time in the last week speaking to clients about the key steps that should be considered at this stage of the current health and economic crisis. There is a range of situations across my client base but in many cases some sort of downturn has been experienced.
Where this has occurred to any extent there is a clear sequence that business owners should take that will lead to survival through the crisis and preparation for the opportunities ahead.
There are five key phases that will be experienced by any business that is adversely affected by this crisis who are looking to thrive in the future and they are – Lockdown (partially or fully), Training (this phase ends when lockdown in their sector is announced), Warming Up (this ends when lockdown in their sector is effected), Sprint and Compete & Grow. These are depicted in the slide below –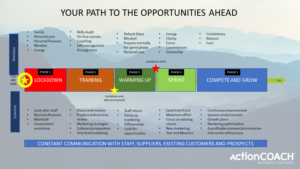 To talk through these five stages I would add the following thoughts –
Lockdown – this is where demand slowed, stopped or was disrupted. The key aim in this phase is to ensure survival of your business. Cash flow forecasting and taking necessary measures, as well as looking for external assistance are key to achieving this.
Learning is the next phase and making the transition from this as soon as lockdown has been securely achieved is critical to taking the path towards thriving and seeking opportunities for you and your business. In this phase the creativity and research time is required to re-assess your business model, your business finances and your market. Will the market be the same after lockdown as it was before or will some of the temporary changes that have occurred significantly affect the customers and competition in your sector? It is answering these questions correctly and devising appropriate marketing strategies that reflect this that will enable you to "pivot" your business, with a number of small but significant offer changes to maximise your relevance and success once lockdown is over. Do plenty of learning and research into your own business too, make it as good as it can be.
Warm-up is the phase that begins with the announcement of the end of lockdown in your sector. This date will vary from industry to industry and the lag between announcement and lift of lockdown will also vary. What must happen in this phase though is that you engage your existing clients with the new offers you have built and market and make sales that will enable them to benefit as business doors re-open. Get this phase right and you can steal a real march on competitors who just assume the world will not change. They will be the ones on the back foot and with out-dated offers of products or services.
Sprint is where you hit the ground running as lockdown is over. Get your new customers into your client list and retain all your existing customers with the new improved products and services. Get your team working effectively in mew ways that suit the current situation. If you did your learning phase correctly your business will be operating with more mastery of time, finances and service delivery – resulting in a more profitable set of sales that you experienced before the crisis.
The final phase is the continuation of growth and build yup of loyal and delighted customers as you retain your place in the front of the race and make good profits from the opportunities that you worked so hard to create in the learning phase.
It is this reason that the learning phase is effectively the spring season in the business cycle. Seeds sown mow will deliver strong and profitable harvests.
It is worth remembering that Jim Rohn, in his four seasons of business analogy makes it clear that the four annual seasons – Winter, Spring, Summer and Autumn do also follow in business cycles. On average the cycle takes 8-10 years to conclude and it is 2008 since our last winter season in business. Some would say the change to winter was therefore predictable even if the cause was not. The key takeaway from his analogy is that whatever season a business is in, their focus should be on the key tasks appropriate to the season and should always include preparation for the subsequent season. Moreover, the more preparation one does the sooner one can move to the next season if in a difficult one and the more of the correct actions you take can extend the positive and profitable seasons – season timings can be affected by your mindset and activities. So, following the path to opportunity for your business now, will bring spring, and then summer along quicker for you than those who do not think this way and who do not prepare and plan appropriately.
Please contact me at rogerpemberton@actioncoach.com or on 07511 969690 if you would like to discuss the patch you are selecting in your business.